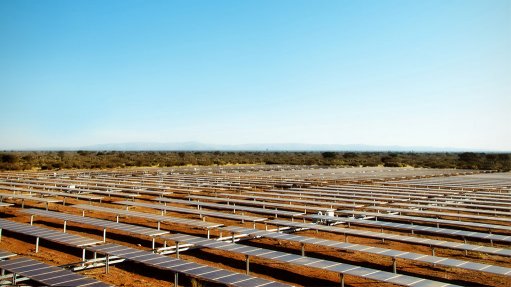 Photo by: Acconia
The 94.3 MWp Sishen solar photovoltaic (PV) plant, in the Northern Cape, was expected to deliver 216 GWh/y of electricity into power utility Eskom's national grid.
The plant, which was built by Spanish firm Acciona and commissioned by Spanish consulting firm Enertis, featured 319 600 PV modules, mounted on 470 single-axis trackers.
Enertis' project scope included an independent verification of the electrical and mechanical execution, coordination of the commissioning process, identification of construction defects, setting of communications, liaison for grid compliance tests, and performance of further acceptance tests such as the thermography of the PV panels.
It also performed a complete quality control inspection of the PV modules – both at the manufacturer's facilities in China and at Enertis' South African laboratory, in collaboration with its partners at Port Elizabeth's Nelson Mandela Metropolitan University. The tests included flash-test and electroluminescence.
From its offices in Cape Town, Enertis aimed to increase its presence in the country, as well as in other countries in Southern and East Africa.