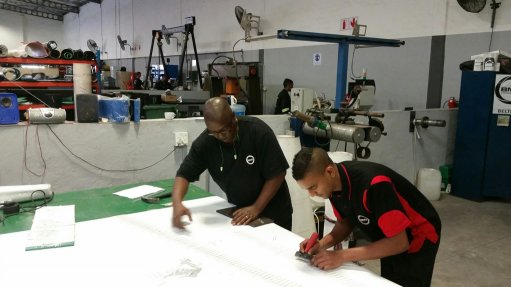 STUDENT OPPORTUNITIES The service centre enables young students to learn basic engineering skills
Technical solutions provider Bearing Man Group (BMG) has recently opened its regional service centre (RSC) in Riverhorse Valley –one of Durban's rapidly growing industrial hubs – in KwaZulu-Natal.
The location of the RSC in the heart of the new but established Riverhorse Valley, enables BMG to provide service for its customers. BMG KwaZulu-Natal RSC general manager Donovan Scott says that accessibility was key to location selection.
"The merging of BMG's KwaZulu-Natal workshop facilities into the Riverhorse Valley RSC and field services into a centralised hub enhances the company's service to a diverse customer base throughout the region," he says.
The 2 600 m² RSC focuses on several core divisions – drives, gaskets, hydraulics and materials handling – that BMG has in KwaZulu-Natal. He notes that the new specialist service centre in the RSC offers technical expertise and value-added product solutions.
The RSC offers training to potential students in several different disciplines and Scott explains that these can include electrical, mechanical, hydraulics, pneumatics, electronic and materials handling disciplines, as well as predictive maintenance and component failure analysis.
He explains that the RSC works closely with 13 dedicated BMG branches and, using the ties it has to other BMG branches, it can easily supply drives, gaskets, hydraulics and materials handling for any client.
"The advantages for customers are improved service, repair and delivery efficiencies, centralised technical support and easy accessibility to BMG's comprehensive range of quality-branded engineering components," he concludes.