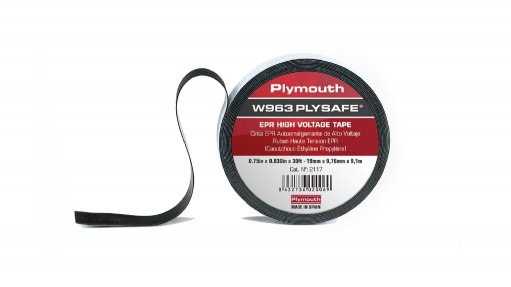 MARKET NICHE Applications of the tape range include general and mining cable jointing and cable termination
Photo by: Tank Industries
Local manufacturer of cable accessories and connectivity solutions provider Tank Industries will launch a new range of high-quality rubber and polyvinyl-chloride tapes for low- and medium-voltage cable applications this month.
"Applications of the Plymouth brand of tapes, which are manufactured in Spain, include general-purpose cable protection, general and mining cable jointing, cable termination, repair mastics and insulation," Tank Industries GM Clive Maasch tells Engineering News, highlighting the tapes' superior quality and compliance with American specifications for cable tape.
He adds that Tank Industries believes there is a market niche for a quality product at a market-related price in the cable tapes sector, as the company has noted that several inferior products are being sold at high prices and are irregularly supplied to the market.
Other Products Tank Industries Power division manager Adriaan Theron highlights the demand for modern-technology cable termination parts in a moulded form, which form part of screened separable connection systems for cable connections.
"Connecting systems used with new technology, such as medium-voltage gas- insulated switchgears, require another type of screened connecting system, particularly in the renewable-energy sector because of space constraints for connections," he says.
Owing to the need for these systems and the moulded cable terminations at the wind and solar photovoltaic farms in South Africa, Tank Industries supplies the screened separable connection systems to the market in South Africa and to sub-Saharan Africa.
The compact design of the moulded cable terminations, manufactured by connectivity solutions provider TE Connectivity, provide a way to connect where minimum clearances does not allow a Type 1, 2 or 3 termination system. It also allows not only for easy installation but also for mechanical or crimp connectors to be used with the screened separable connection system, he adds.
Refreshing Focus on Local Content Although the screened separable connection system components are manufactured abroad and imported, a key aim of Tank Industries is to increase focus on importing these systems in component form to introduce local-content components in the assembly of the system.
Tank Industries currently imports the system components and assembles the system locally, as it further provides the company with advantages in increased stockholding and flexible availability, Maasch points out.
The increased focus on local-content supply and assembly stem from an increase in sales in the past year and from product demand driven by the current renewable-energy projects in South Africa, he adds.
Maasch notes that the company has supplied about a 1 000 screened separable connection system kits to eight renewable-energy projects across South Africa in the past year and expects an ongoing supply to projects from the second, third and fourth rounds of the Department of Energy's Renewable Energy Independent Power Producer Procurement Programme.
Maasch believes the new trend of South African utilities replacing paper- insulated lead cable with cross-linked polyethylene cables provides an additional opportunity to supply the moulded terminations and connection systems for use with these cables, as advancing technology creates the need for these systems.
Meanwhile, he attributes the company's increase in business to the current significant focus on power generation in South Africa, which is linked to increased development and rural electrification.
"As there is significant growth in the industry, owing to electricity demand and the associated demand for infrastructure, there is also increased demand for cables and the relevant accessories," Maasch says, adding that renewable energy plays a key role in providing growth and opportunities in the sector.
Cable Accessory Demand While the cable industry requires specialised products for new electrical reticulations, Maasch notes that using substandard-quality products could lead to project failures.
"Many products in the market are of a substandard quality, often owing to a price-driven, rather than a quality-driven market.
He adds that new market players often supply cheaper, but low-quality products that do not meet the required specifications.
Maasch concludes that although challenges emerge when establishing a minimum specification for cable accessories, these challenges can be mitigated through the appropriate education, as well as training in the supply, analysis and of failure of these products.