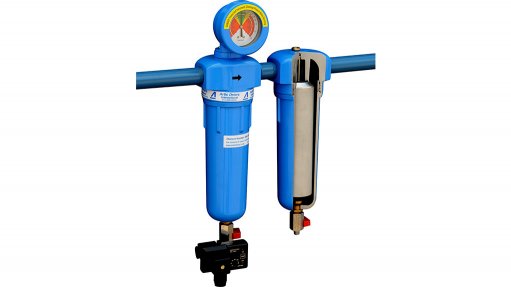 E SERIES COMPRESSED AIR FILTERS The new E series compressed air filters range is meant to provide quality at an affordable price
Pneumatic treatment products supplier Artic Driers International has recently launched the E series compressed air range of coalescing and particle filters.
The E series filter range that can be used on a number of pneumatic devices is available from 0.5ʺ to 3ʺ BSP port sizes and flow capacities from 1.49 m3 to 46 m3 a minute at 7 bar-gauge.
"In South Africa's tight economy, the need for high-quality compressed air filtration at a low purchase price is a winning combination," states the company.
The casings and elements of the filter range are manufactured by a German-owned group in Malaysia. The company emphasises that the combination of effective operating overheads, combined with German quality assurance standards, provides high-quality inline coalescing air filtration at an attractive price level.
The E series offers five different air filter elements for the E series filter casings. Filtration ranges from 3 micron down to 0.01 micron, with oil removal down to 0.003 mg/m³. The elements are routinely checked by independent German International Organisation for Standardisation audit companies for filtration and oil removal.
The filter elements are produced in-house using the pleated media construction method, explains the company. It continues by saying that this method of construction provides the highest level of dirt holding and the lowest pressure drops, owing to its large surface area. A pleated media construction method provides 40% more surface area than that of a spiral wound filter element. Filtration media is sandwiched between a stainless steel inner and outer retainer sleeve. The elements are finished with a colour coded anti re-entrainment sock. The aluminium casing is internally treated to prevent corrosion and is powder coated externally.
The casings are sold with a differential pressure gauge to alert the operators when to change the filter element. Filter bowl drainage is carried out by a level-controlled internal automatic drain valve. The company assures that these items are included within the list price. A timed electronic drain valve can also be mounted onto the outside of the bowl for regular precise drainage or an intelligent no loss capacitance drain can be fitted upon request.
Artic Driers International has also introduced activated alumina air drying and activated carbon oil absorption canisters that fit into the E series casings. These units may be used as point of use dryers and final oil vapour removers.
The point of use canisters provides clients with additional protection for those really demanding applications, explains the company.
Artic Driers International imports pneumatic treatment products from ten countries to provide the most cost-effective reliable solutions for the South African market, concludes the company.