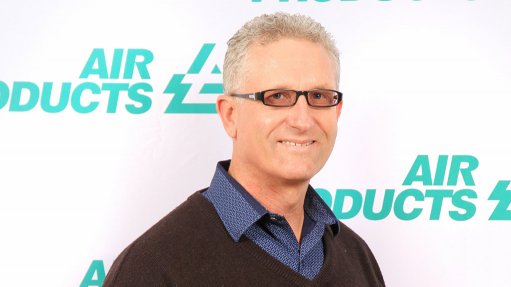 JOSUA LE ROUX Air Products South Africa new polycarbamide technology provides colour, ultraviolet stability and low temperature curing
Industrial and speciality gas products and chemicals supplier Air Products South Africa (SA) recently introduced its new polycarbamide technology, designed for flooring applications, which provides colour, ultraviolet stability and low-temperature curing onto the local market, says Chemicals division GM Josua le Roux.
He tells Engineering News that Air Products customers in South Africa are the first to have applied this technology so extensively, citing the healthcare and food and beverage sectors as two popular application areas for these novel products.
Air Products' polycarbamide technology uses polyisocyanide resins with near-zero volatile organic compounds, cured with Air Products' amine technology.
"These organic compounds are the key ingredients, which provide rapid hardness development and excellent surface appearance," explains Le Roux.
T
he company, which celebrated its forty-sixth anniversary in South Africa in March 2015, supplies its chemicals products to a variety of markets or sectors – mostly to the chemical-processing industries – where it offers technical solutions to coatings and adhesives manufacturers, including the visual printing market.
Air Products SA product manager Dieter Krug tells Engineering News that one of the company's main business focus areas, where it sees significant growth, is the epoxy resin and curing agents sector, which focuses on functional coatings such as corrosion protection, marine applications, concrete coatings and water-based technology.
Krug notes that these curing agents are strong drivers of Air Products' technological development, adding that Air Products SA has received a positive consumer response to its range of epoxy resins and curing agents.
The company is also focusing on the flooring industry, mainly supplying resins and curing agents for institutional coatings, for general concrete protection and coatings designed for hospitals and food factories.
Air Products' epoxy curing agents provide technical solutions for concrete structure protection against chemicals and acid rain. It also provides epoxy-coated internal steel tank protection and aggressive processing chemicals storage. Epoxy applications include electronic products in cars and PC boards, while pipeline internal coating applications include drinking water transportation.
Owing to this broad range of applications, Krug points out that the company enjoys strong business relationships in a range of industries and manufacturing sectors.
Coatings for Africa Conference
Air Products SA recently took part in the Coatings for Africa Conference, held in May at the Sandton Convention Centre, in Johannesburg. The conference was an interactive seminar where customers could address the forum or the technical experts present.
Le Roux says the company used the conference as a platform to establish contact with its customers, adding that it has had a lot of positive responses from potential customers who attended Coatings for Africa.
He notes that Air Products SA introduces its products by showcasing them regularly and making them available through research and development programmes in Europe, America and South America. He adds that the company focuses on product accessibility for the global and South African markets and works to continuously improve product availability and on-time delivery.
In addition, Air Products SA hosts seminars in South Africa for customers from specific market sectors, who are invited to interact with technical experts flown in from their parent company, global industrial gas and equipment supplier Air Products & Chemicals.
Volatile Organic Compounds
Le Roux highlights volatile organic compounds (VOCs) legislation as an example of an industry-related issue addressed at Air Products' seminars.
He explains that Air Products' high solids and water-based technology prevents the release of VOCs into the environment.
South African law has recognised the need to reduce the use of VOC-based materials in any industry to avoid the negative health effects of long-term exposure to solvents.
Air Products' epoxy technology offers the industry alternatives to solvent-based epoxy products, with positive performance and handling properties with low to zero VOC emissions.