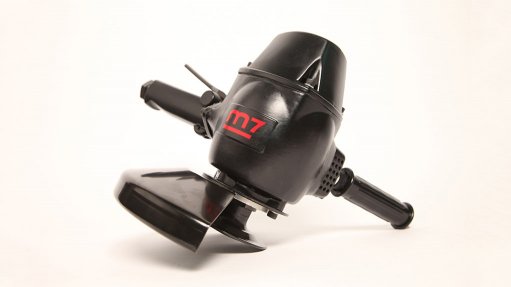 AIR GRINDING The QB-185 grinder is used in heavy-fettling applications
Industrial machinery supplier Dowson & Dobson Industrial (D&D) plans to launch the new Mighty Seven QB-185 pneumatic vertical grinder towards the end of next month.
The grinder, which uses a 125 mm disc, will improve restricted and space-confined working conditions in heavy industrial applications, states D&D.
"This is a completely new product, with the size of the vertical grinder being an especially sought-after product in South Africa," says D&D sales manager Johan van Rensburg.
D&D has been an agent for Mighty Seven pneumatic products for five years and Van Rensburg says the brand is continuously expanding its product range. "When Mighty Seven identifies a need for a specific tool in the market, the company will develop a tool for that exact requirement," he says.
The QB-185 grinder, which has a pneumatic motor that produces 1.4 hp, is used in heavy-fettling applications for the cleaning of burs in difficult-to-reach places.
"The closest rival product only offers a 0.7 hp motor in its largest grinder," says Van Rensburg, adding that the QB-185 grinder completes the vertical grinder range of the existing 175 mm and 230 mm vertical grinders as the smallest product.
At 2.8 kg, the unit is considerably lighter than other products. It is housed in a cast steel body and the internal components are made of hardened steel.
Although discs for this grinder are safely tested to a maximum speed of 13 000 rpm, overspeeding is prevented by driving air through a nonadjustable governor, thereby regulating disc speed to 12 000 rpm. This not only prevents disc disintegration but also possibly injury to factory staff or operators. Surplus air is diverted to a side-mounted exhaust. The unit has an average air consumption of 170 ℓ/min, which uses less air, compared with other products on the market.
Operator Comfort
The handle is covered in a rubber sleeve to guard against vibration and it also provides insulation between the handle and the steel casing below it, which cools because of high-pressure air passing through it.
Further, Van Rensburg notes that, with a sound pressure of only 86 dB, this grinder is deemed acceptable for use in South African foundries. By loosening a nut, the cover can be changed to deflect sparks in another direction, depending on the application, and a tool to loosen it is provided with the machine.
Air Tapping Tool
A new low-cost pneumatic tapping tool, the Mighty Seven PC-1012, will also be incorporated into D&D's product range by May.
Van Rensburg says the PC-1012 will cost considerably less than other tapping wrenches currently available. "This product is ideal for clients frequently doing large amounts of tapping," he says.
The tool is ergonomically designed, for easy switching between forward and reverse, operating through two grip-mounted buttons. It is also versatile, able to tap holes from 3 mm to 10 mm in normal steel, and from 3 mm to 12 mm in copper and aluminium.
It operates on 90 psi, with an average air consumption of 113 ℓ/min. In addition, a standard exhaust baffler reduces sound pressure to 89 dB. Tapping speed is adjustable through a flow control device below the grip of the tool.
Weighing 2.1 kg, the tool is equipped with a secondary grip for steady handling, which is also easily adjustable for right- and left-hand operation.
Several collets, ranging from 3 mm to 12 mm, are also included.
Client Service
D&D stocks a range of essential parts for their entire product offering.
Mighty Seven products are available from D&D outlets in Johannesburg, Durban, Cape Town, Port Elizabeth and Richards Bay. "At each branch we have a product champion who will assist and train sales people," concludes Van Rensburg.