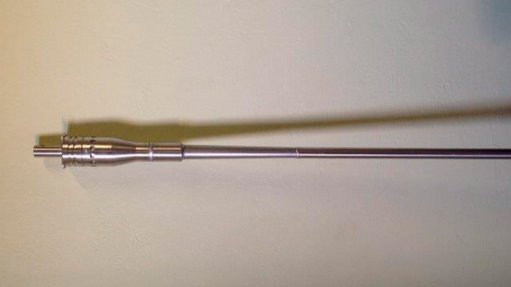 NEW DESIGN The ProSpin technology includes a multiport entry in the hydrocyclone that allows for greater separation of oil and water
Environmental management products and services provider Procon Environmental Technologies launched a new locally developed oil-water separator at the Electra Mining Africa exhibition last month.
Procon MD Kuno Kerlen tells Engineering News that the ProSpin hydrocyclone treatment system separates oil suspension from wastewater streams, using strong centrifugal forces – more than 1 000 times the force of gravity – created by the hydrocyclone.
The product range includes pneumatic-engineered solutions for
3 m3/h to 9 m3/h of oil-water flow, and electrical-engineered solutions dealing with flows of 3 m3/h to 100 m3/h and upwards.
As environmental compliance and sustainability continue to play an increasingly important role in the South African and African mining sector, as well as in general industry, the innovative and cost-effective ProSpin solution significantly assists these operations in meeting discharge limits, Kerlen says.
It also adds value to the local economy, as it is manufactured locally, he adds, noting that the company started detailed engineering of ProSpin about six months ago.
The ProSpin solution will initially be installed on the wash bays at two separate mining operations, in Limpopo and Mpumalanga, Kerlen says.
"The high separation efficiency, low pressure drop and low maintenance of the system are significant advantages for local operations. As a result, I am confident that ProSpin will gain measurable market share in the near future."
Further, the ProSpin solution is being trialled in the petrochemicals industry, while the power generation and fuel distribution industries have also expressed interest in the solution.
Product Features
The system components of the ProSpin oil-water separator include a self-adjusting stainless steel floating oil skimmer, a strainer basket, a low shear pump and a pressure vessel with de-oiling hydrocyclone liners.
A key feature of the technology is the multiport entry in the hydrocyclone, which allows for greater separation efficiency than the older hydrocyclone with its two-port entry.
Contrary to tangential or axial cyclones, ProSpin uses a mixed-flow principle, which results in a stabilising and coalescing effect on the oil-water flow, Kerlen explains.

"All available pressure energy is converted in the rotating motion responsible for separation. As a result, common negative effects in conventional cyclones, such as boundary-layer disturbances and flow destabilisation, are eliminated," he says.
In the element section, the centrifugal force is increased to avoid boundary-layer separation and other losses in the specially designed tapered section. The total result is a cyclone that ensures the highest possible efficiency in combination with the lowest pressure drop.
ProSpin hydrocyclone technology can remove 95% of 10 µm to 15 µm oil droplets from the water, while more significant hydrocarbon removal can be achieved by combining Procon's proprietary MyCelx filtration and ProSpin oil-water separation solutions, Kerlen adds.
After using ProSpin, MyCelx is installed to filter out the remaining hydrocarbons. On contact with MyCelx, oil pollutants in the air and water bond immediately with one another and are permanently attached to the filter media.
MyCelx instantly removes 99.9% of hydrocarbon contaminants in a single pass, even at high flow rates.
"It permanently binds slightly soluble organic compounds and colloidal metals, and will not release pollutants, owing to its viscoelastic nature. This guarantees that industry meets the national discharge standard of less than 2.5 parts per million," Kerlen concludes.