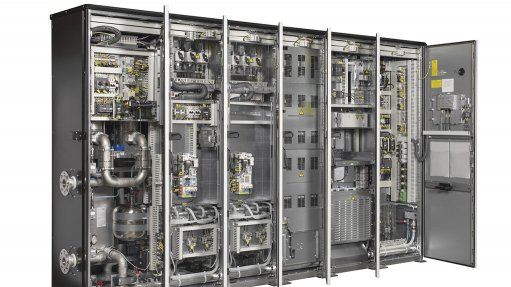 LIQUID COOLED DRIVES This portfolio of liquid cooled drives technology includes a reduced footprint of up to 30%
Electric variable-speed drives (VSDs) and motors supplier ABB Motion in January released their ACS880LC liquid cooled drives portfolio that can improve overall system efficiency by reducing auxiliary power consumption by up to 10%.
"This portfolio of liquid cooled drives technology includes a reduced footprint of up to 30%, longer maintenance intervals of up to nine years and is globally certified for marine use," says ABB Motion national sales manager Oumesh Ramlakan.
Further energy efficient advantages of this portfolio are reduced expenses and power consumption.
It also creates recovery energy through the process of transferring heat directly to liquid. The heated liquid can then be fed to a recovery system and reused for process heating. This technology ensures that 98% of the heat is transferred directly to liquid, explains Ramlakan.
"Traditional air-cooled drives require additional external heating, ventilation and air-conditioning systems to cool the air in the motor control system room. These cooling systems often come at a large capital expenditure cost, added energy consumption and even greater running cost, which bring down the total system efficiency."
As a leading supply company for VSDs, these new liquid cooled drives are the next step in innovation that ensures reduced expenses and power consumption, adds Ramlakan.
"At ABB Motion, we consider efficiency not only at drive and motor product levels but also system level to determine how best the products can work together to maximise efficiency."
To ensure maximum efficiency, new algorithms have also been developed across ABB VSDs portfolio to match current application demands.
Ramlakan advances that the ABB signature direct torque control motor control platform, which has been on the market for more than 25 years, ensures maximum motor torque per ampere by directly controlling motor torque.
The algorithm employs a variable switching frequency – unlike traditional pulse width modulated drives – resulting in lower switching losses in drives and reduced heat dissipation with improved system efficiency in even the most demanding industrial applications, he adds.
"The technology the world needs to drastically improve energy efficiency is in hand. Much of it, such as high efficiency motors and drives, is well established and time-tested. Accelerating the adoption of these existing technologies will result in significant energy reduction worldwide," Ramlakan concludes.