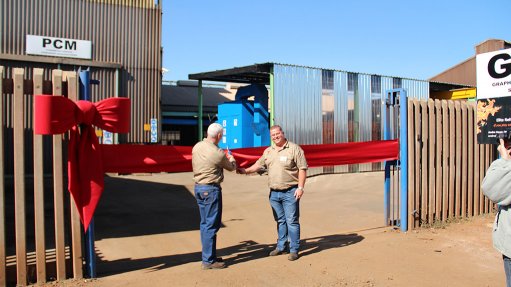 GFS FACILITY OPENING Hercules van der Merwe at the Graphite Freezeline Solutions facility opening
A new graphite facility, Graphite Freezeline Solutions, was opened last month on industrial engineering firm Thos Begbie's manufacturing campus in Middelburg. It will reduce the time to manufacture products that include graphite components, especially for the mining and foundry industries, says Thos Begbie CEO Edwin Dreyer.
The facility is a high-technology extruded and moulded graphite cutting and shaping line that can produce a range of graphite components and specialised designs, says Graphite Freezeline Solutions director Hercules van der Merwe.
Thos Begbie bought the plant from graphite supplier GrafTech South Africa, which shut down the plant in Meyerton in March, and relocated the equipment, installed additional machines and brought in experts to assist in commissioning the plant.
The facility produced its first machined graphite component within 20 days, while setting up the facility, which started in April. Van der Merwe said this demonstrated the commitment of the team to serve client needs.
"Thos Begbie saw the opportunity to add graphite to its production line and serve customers more rapidly without having to transport components between sites," he says.
Graphite production is a complex process that requires careful heating, cooling and retreatment – some graphite must be heated to between 2 500 ºC and 3 000 ºC, while certain grades must be reheated and graphitised, which means that certain graphite components can take 45 days to 90 days to manufacture.
The grain size, pitch, tar, coke and additives, as well as the graphitisation temperature, play significant roles in the quality of the end product, while additional considerations, such as whether the graphite should be installed against or with the grain, are also important.
"We focused on improving the quality, which will serve as a major competitive advantage, in addition to producing a range of complex engineered components and systems and save time by serving clients from one site," Van der Merwe adds.
"In-house graphite expertise is crucial because the correct graphite product in the right application will produce the best results," he adds.
Similarly, combining the design of the mould and the end product allows for better-quality graphite products to be produced. Graphite Freezeline Solutions can manufacture graphite components for copper coolers, platinum furnaces and ferrochrome furnaces, notes Van der Merwe.
The Graphite Freezeline Solutions team's expertise comes into play when, for example, the density of the graphite is higher than 1.73 g/cm3 and the boron content is more than 5 parts per million. In this case, the company and client must apply to the Department of Energy for a licence to use a nuclear-grade material and the location of manufacture and installation must be noted and records must be kept.
"However, despite the exacting requirements to produce graphite, its benefits are significant," he says, adding that it is nonabsorbant, easy to clean and, once installed, no curing is necessary and a furnace can be started immediately. Other uses of graphite include stopper rods and skimmer rods in furnaces.
"We have the capabilities, engineers and designers to make a product that fits your application," Van der Merwe enthuses.