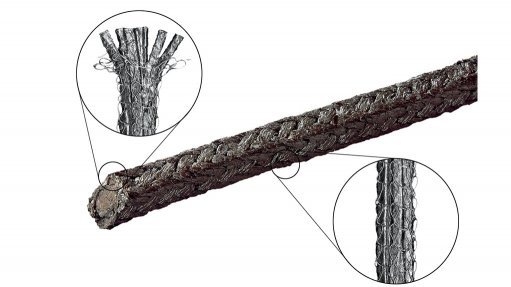 TIGHT FIT The Teadit glad packing is packed tightly around the shaft of a pump or valve to seal the moving shaft from the housing component
Companies looking to lower emissions can now buy sealing solutions manufacturer Teadit's 2236 gland packing in South Africa from gasket manufacturer and distributor Absolut Gasket.
Gland packing is a contact-type sealing element that comprises a braided rope-like material that is packed around the shaft of a pump or valve to seal the moving shaft from the housing component.
The Teadit 2236 gland packing is API 622-certified, which, after being tested and certified, was found to successfully maintain fugitive emissions of as little as 2 parts per million by volume (ppmv).
"The packing runs at about 2% of the actual targeted emissions of 100 ppmv that many organisations are setting out to achieve according to API 622 requirements," boasts Absolut Gasket MD Mark Stöger.
He points out that many different technologies have been designed and added to the range over the years, with the low-emissions range being the latest addition.
Stöger tells Engineering News that Absolut Gasket is a Teadit agent in South Africa and offers sealing products for sealing-critical processes in industries such as refining, chemicals processing and power generation.
Often, these industries involve the transportation of dangerous chemicals, such as ammonia, and hydrochloric or sulphuric acid, at high temperatures and pressures. Therefore, any leakages in the system can cause danger to workers, the environment in which they work and the environment itself.
He emphasises that an incorrectly selected, manufactured or installed gasket can cause failure in the form of leaks, blow-outs – the absolute failure of a gasket – or even explosions if the utmost care is not taken.
All gasket sealing products have a form of leakage, but if the material is selected correctly, the leakage is so minimal that it is not experienced in real terms. The media that does leak, however, dries out before it reaches measurable levels capable of causing danger to the surrounding environment.
"But in the case of emissions, it is a matter of how much it leaks and if those leakages are within acceptable ranges to be classified as low-emission grade," Stöger points out.
Tests have been developed to mitigate the amount of leakage that can be expected from the sealed join by stringent formulation of the construction of these materials.
These tests take into account the compressibility of the base material, the construction of the material and its capability to withstand even the highest of temperature and pressure conditions.
"Polytetrafluoroethylene, with its pH range of between 0 and 14, and graphite, with its inherent high-temperature capabilities, are common among the many variations of materials available that are used for sealing solutions within the industry," says Stöger.
Moreover, he mentions that the company has assisted with the design specification and recommendation of materials –such as graphite based pressure seals and packing for high pressure valves – suitable for use in extreme conditions, for high pressure steam lines in a range of State-owned power utility Eskom's power plants.
"This has resulted in not only less downtime for maintenance and the interruption of services to end-users but also a decrease in operational and maintenance costs, with a continued value being realised in the long term," concludes Stöger.