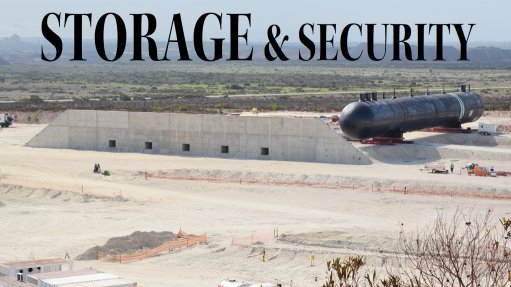 A liquid petroleum gas (LPG) terminal and import infrastructure is being constructed by energy infrastructure company Sunrise Energy in Saldanha Bay, in the Western Cape, to curb historical LPG shortages and meet potential future requirements for gas-fired power plants and other industrial energy requirements.
The project, valued at R1.2-billion, is being developed in partnership with Sunrise Energy's major shareholders, oil and gas infrastructure company Mining, Oil & Gas Services (Mogs), the Industrial Development Corporation and Illitha Group Holdings. Mogs is a subsidiary of Royal Bafokeng Holdings (RBH).
The site of the LPG terminal is an old quarry, which was chosen by Sunrise Energy, owing to its inherent safety properties for storing flammable liquids – in the event of an explosion, the blast energy will be directed upwards, thus reducing the destructive impact on the surrounding area.
Sunrise Energy's proposal for Phase 1 of the terminal, once an LPG retailer has been secured to operate the terminal and sell LPG, is to service the residential markets requiring LPG for heating and cooking. Sunrise Energy CEO Pieter Coetzee says that LPG is an ideal source of energy for these purposes because it is cost effective when compared with electricity.
Sunrise Energy claims that the facility will transform the energy mix in the Western Cape, offering cheaper alternatives for domestic thermal applications and reducing dependence on electricity.
Import Channel
The LPG terminal is designed to import LPG from tanker ships, which will be docked at a multi- buoy mooring facility. Upon disembarking the ship, the LPG will be piped through about 3 km of undersea pipelines, followed by about 2 km of overland pipelines, before entering the land-based terminal, where it will be stored in LPG pressure vessels, known as bullets.
The fabrication of the initial five bullets was completed this month, with two bullets being installed by the time of publication. The three remaining bullets are expected to be moved to the terminal site over the next four weeks.
The manufacturing of each bullet was undertaken by engineering company Efficient Engineering at its Saldanha Bay facility and included the rolling of flat metal sheets, the welding of sheets into cans and welding the cans together to form a cylinder. Cylinder ends were also being formed and welded by the company, thereby completing the bullet in its cylindrical form.
Each bullet has a diameter of 7 m and is 74 m long.
Prior to being transported to the Sunrise Energy terminal, each bullet was heated to 650 ºC over a period to relieve structural stresses and allowed to cool over a period thereafter. The bullets were then coated internally and externally using anticorrosive coating.
Meanwhile, any build-up of vapour clouds is mitigated through the design of the bullet and because the LPG bullets are located sub- surface, thereby reducing the risk of an explosion. "No venting of hydrocarbons will be required when a vessel is offloaded or when the gas is loaded onto trucks," states Coetzee, adding that the bullets are designed to accommodate any vapours internally.
The mooring facility will be able to berth ships sized between 3 000 Gt (gross tonnage) and 20 000 Gt. "This represents about 80% of LPG-carrying vessels operating today," Coetzee notes, adding that Saldanha Bay, as an underused deep-water port, creates enhanced utilisation opportunities for the port.
The contract to build the mooring facility and subsea pipeline was awarded to marine construction company Clough Murray & Roberts Marine in February, at which time the contract to build the land-based portion of the plant was also awarded to construction company WBHO.
Phased Approach
The LPG terminal is envisioned as a three-phase project, thereby offering scalability to expand as and when demand increases.
Phase 1 of the terminal, which is expected to be fully commissioned by May 2017, will include five LPG bullets, with a total capacity to store 5 500 t of LPG. The throughput capacity of Phase 1 is 17 500 t a month. "This will necessitate about three turnovers (a month) of stock," says Coetzee.
The LPG bullets will be housed behind a retaining wall and buried under soil once construction is complete, thereby creating a cool and safe environment for them.
The construction portion of Phase 1 is providing about 450 jobs. Once the terminal is completed, an operational staff complement of about 60 personnel will be required.
The second and third phases will be undertaken once commitment from industry has been obtained and more volumes of gas are required, thereby justifying the additional investment in more LPG bullets and the associated infrastructure.
These phases will each include another five LPG bullets, thereby increasing the storage capacity of the terminal to 16 500 t, with a combined throughput capacity of 52 000 t a month.
They will also be able to provide LPG for industrial and bulk consumers and have the potential to supply gas-fired power stations in the Saldanha region.
State-owned power utility Eskom currently uses open-cycle gas turbines (OCGTs) in two of its peaker power stations – Gourikwa and Ankerlig – also in the Western Cape. These OCGTs burn diesel in engines (which are strikingly similar to those used in jet aircraft) to produce electricity.
These peaker plants, as the name suggests, are designed to be used with very little start-up time during periods of national peak demand (usually early evenings, and during winter), as they can be started and operated at full load with quick turnaround.
However, burning diesel in OCGTs is much more inefficient than using gas in closed-cycle gas turbines (CCGTs). During 2013 and 2014, Eskom spent R10.5-billion on diesel fuel to operate its two OCGTs. At the time, expenditure was far beyond the R5-billion spent in 2012 and R8.1-billion above the R2.5-billion set aside by the regulator in its revenue determination for the period.
It is important to note that OCGTs can be converted to CCGTs with a retrofit of certain key components, and Eskom announced in January that it was proceeding with a conversion programme to enable its OCGTs to use diesel and gas, thereby classifying them as dual-fuel plants.
Moreover, the duel-fuel conversion will enable Eskom, should it wish to do so, to develop a piped gas network, thereby reducing the cost of road transport, which it had previously been using to deliver diesel.
Coetzee says "there is nothing (in terms of regulations) outstanding", as all the regulatory approvals have been granted and are in place for the LPG terminal, including the tariff approval from the National Energy Regulator of South Africa and all the required environmental-impact assessments.
The terminal will also facilitate the blending of LPG to a client's requirements and allow for initial dispatching using road transport. A rail-loading facility will also be considered in the future to service the market further afield of the Western Cape, he adds.
The moving of the bullets is being facilitated by abnormal loads and heavy-lifting company Mammoet, which is using a combination of two prime movers, heavy-duty trailers and self-propelled modular transport units to transport each bullet.
An additional prime mover is also being used to ensure sufficient traction over a steep gradient of 5° at a point in the journey.
The moving of the bullets necessitated assistance and approval from logistics company Transnet National Ports Authority, as the abnormal load vehicles have to cross over numerous Transnet rail lines.
In addition, a purpose-built bridge was built over a conveyor system to allow for uninterrupted operability of the conveyor system.
Access to Market
Coetzee says Saldanha Bay was chosen as the site of the terminal, owing to its access to the LPG markets of both South America and West Africa.
There have been numerous calls and initia- tives to help provide impetus for and build on gas facilitation infrastructure at Saldanha Bay, including, for example, proposals by the Department of Energy for independent power producers to invest in gas-to-power projects at or near the port.
Further, the Saldanha Bay Industrial Development Zone is a major step in government's Operation Phakisa initiative to expand and develop South Africa's ocean economy. This is a dedicated facility aimed at providing support services for upstream exploration and production developments in South, West and East African coastal oilfields and gasfields.
Although Sunrise Energy does not own or trade any LPG, it will provide terminal services. The open-access facility is available to any gas importer, distributor or downstream user to import LPG, resulting in the increased supply of LPG to the market at competitive pricing.
RBH CEO Albertinah Kekana says Mogs's vision is to provide and operate oil and gas infrastructure, address fuel security and the efficient handling of fuel in the regions within which it operates. "We always seek to collaborate with the right local and international partners who share our vision. The completion of the LPG terminal will play a key role to help resolve South Africa's energy challenges and promote fuel and energy security. . ."