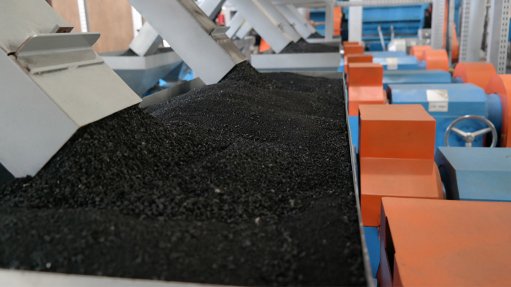 Waste tyre recycling company Mathe Group's investment in a new multimillion-rand tyre processing facility in Hammarsdale, in KwaZulu-Natal, is expected to increase the company's processing capacity to about 150 000 tyres a year to produce about 7 000 t/y of rubber crumb or granulate.
Mathe Group had processed about 40 000 tyres during 2015.
The company, which started reprocessing used truck tyres into granulate in 2011, previously operated from an 850 m2 factory in New Germany, in KwaZulu-Natal.
It started construction on the new 2 500 m2 factory and 1 000 m2 warehouse in Hammarsdale in 2015 to enable it to increase capacity. The factory, which opened in February, is equipped with about R20-million worth of equipment capable of processing about 2 t/h or up to 24 t/d of truck tyre.
"The new operation is four times larger than its predecessor. It is a completely different plant and far more advanced," says Mathe Group founder Vusumuzi Mathe.
The new factory is highly automated and there is potential to grow the workforce, as the throughput and the number of end-products grows.
The Hammarsdale plant processes radial truck tyres, which are sorted and then undergo a three-phase crushing process. Separators produce different sized particles suitable for different end-uses and according to customer requirements.
Mathe Group exports about 50% of the rubber crumb, with the remainder sold locally.
The Hammarsdale facility is adjacent to Mathe Group's sister company PFE Extrusion, which is a shareholder in South African carpet giant Van Dyck Carpets, which uses large amounts of rubber crumb to manufacture acoustic underlays for use under soft and resilient flooring and acoustic cradles used in the built environment to eliminate variations in the structural floor surface and to accommodate services.
The rubber crumb can also be used as a foundation or infill for sports fields, public spaces and playgrounds using artificial turf or grass, as well as in rubber flooring and paving or in asphalt, rubber landscaping and kerbing.