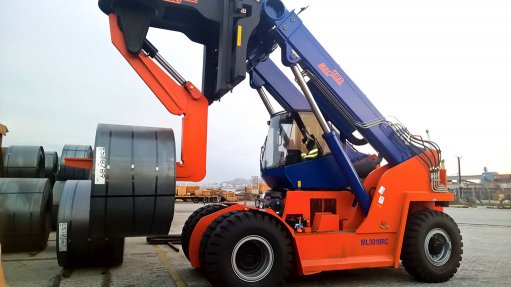 EASY LIFTING The variable reach trucks are capable of easily lifting large rolls of materials
Machine manufacturer Meclift's variable- reach trucks, which are designed to swiftly, efficiently and safely handle heavy loads of materials such as steel and aluminium, are now available in South Africa exclusively from materials handling equipment supplier BLT South Africa (SA).
"Meclift machines are compatible with a range of specially designed attachments that offer the versatility for one machine to be able to safely handle different materials, with no damage to the goods," says BLT SA marketing director Charity Gumede.
She explains that, unlike conventional forklift trucks, the compact variable -reach trucks are able to drive into containers or reach inside a container for easy loading and unloading of goods and equipment.
Gumede highlights that Meclift's machine solutions ensure improved control over logistics in ports, factories and cargo holds, as handling times are significantly reduced, while also increasing efficiency and safety during materials handling procedures and lowering operating costs.
Further, she points out that Meclift loading boxes, which are designed to be lifted easily, carry and lower aluminium bundles and also prevent scratches or the bending of cargo. These loading boxes handle rod diameters between 152 mm and 254 mm, a 7 000 mm maximum load length and a maximum load weight of 11 300 kg.
Gumede says that Meclift has extended its range of accessories for the steel industry in South Africa to include new C-hooks. These robust C-hooks have a hydraulic 360˚ rotation and tilt 64˚ and are compatible with all Meclift machines and coil attachments to enable the efficient transportation and accurate positioning of coils.
"The C-hook attached to an ML3018RC variable-reach truck, can handle steel coils of up to 32 mt. Coil ram and clamp attachments, with customisable dimensions, also enhance the performance, efficiency and safety during the handling of steel coils," she explains.
Gumede says that compact variable-reach trucks can load containers from the back end by driving steel coils inside the container. It is also possible to load a container from the outside by using the side shift feature to carefully position cargo.
She points out, however, that lifting beams are recommended for handling extra-long objects, including steel tubes, beams and sheets. Meclift air cargo pallet forks (ACPFs) act as an extension to a roll conveyor during loading and unloading of air cargo in confined spaces, especially inside containers.
"ACPF systems lift pallets off the ground and lay them directly on the roll conveyor and can also be used to slide sheet materials into the container. Meclift's double-fork system also enhances the flexibility and performance of cargo handling.