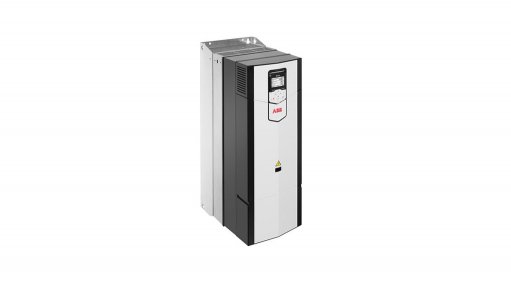 SPACE & ENERGY SAVING Compact package optimises costs and saves space
Multinational corporation ABB's new drive generation captures braking energy from electric motors and returns it into the network as an almost harmonics-free current.
In industry, electric motors are often used in applications with frequent brake applications. A braking chopper and external electrical resistors dissipate braking energy as heat, which is lost or even has to be cooled using additional energy, whereas regenerative drives can feed this braking energy back into the mains, which improves energy efficiency significantly.
ABB has for long been the leading supplier of such solutions. ABB's series of regenerative drives, called the ACS880, cover an output of between 4 kW and 3 200 kW – the broadest range in the market. The drives can cut energy consumption considerably, reduce space requirements by up to 85%, owing to their compact design and reduce investment costs by up to 3%. Moreover, reduced heat dissipation significantly reduces the need for electrical room air conditioning.
The ACS880 regenerative drives feature high immunity to system disturbances and can stabilise and even improve motor voltage in case of unstable supply. This ensures reliable operation even if supply voltage drops below the normal value.
Since there is no need for external brake components, ABB's regenerative drives are significantly more compact than conventional solutions. Reduced engineering and material costs and a smaller footprint in the electrical room deliver considerable savings potential regarding the cabinet building costs.
The wall-mounted ACS880-11, the ACS880-14 modules and the cabinet-built ACS880-17 are equipped with all the required components installed in a compact enclosure ready for connection. This facilitates and accelerates cabinet installation additionally because there is no need for the subsequent wiring of various components.
In addition to all these advantages the ACS880 drive can also be used as a multiple sensor reading important data, such as motor speed, motor torque, motor currents, various temperatures and many other parameters. The data is then available for diagnosis, remote monitoring and process optimisation through ABB Ability – bundling all products, services and solutions into ABB's digital offer, including cloud connection.