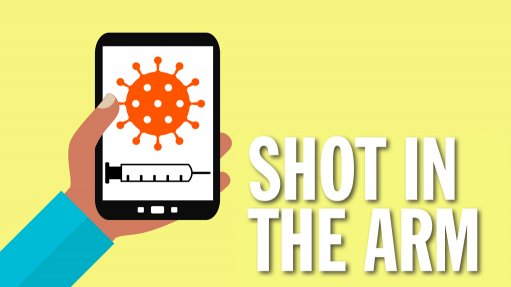 The deployment of a mobile technology platform to manage Covid-19 vaccination appointments and stock availability will help create an enabling path for African countries in the fight against the devastating global contagion.
Telecommunications giant Vodacom Group and the African Union Development Agency (AUDA-Nepad) are partnering to offer the mVacciNation cloud-based digital toolbox, developed by Vodacom Group member Mezzanine, to the 55 African Union (AU) member States to accelerate the roll-out of Covid-19 vaccines.
This is the first project in the public–private partnership milieu formed between Vodacom Group and AUDA-Nepad to boost Africa's digital transformation and build resilience for the post-Covid world.
"It is a critical milestone in the roll-out of Covid-19 vaccination on the continent," says AUDA-Nepad CEO Dr Ibrahim Mayaki, adding that the response to the Covid-19 crisis has significantly accelerated the adoption of frontier technologies.
As at May 18, the Africa Centres for Disease Control and Prevention (Africa CDC) tally of cumulative Covid-19 cases across the continent was 4.69-million, with 4.24-million recoveries and nearly 126 000 deaths.
According to the latest data from the World Health Organisation (WHO), 47 African countries are distributing Covid-19 vaccines; however, the continent's vaccination coverage is the lowest for any region of the world, accounting for just 1% of the vaccines administered worldwide by mid-May.
Of the 37-million doses shipped to Africa, just over half had been administered under the continent's largest-ever immunisation drive at the time of writing.
While about 150 Covid-19 vaccine doses are administered per 1 000 people globally, only eight doses are being administered per 1 000 people across sub-Saharan Africa, says WHO Africa regional director Dr Matshidiso Moeti.
Additionally, African countries are slipping further behind the vaccine roll-out, amid shortages and the shipment of the vaccines having slowed, owing to the Covid-19 crisis in India.
However, many factors contribute to a successful roll-out of vaccines, and having enough doses is just one.
"Achieving pan-African Covid-19 immunisation coverage will require the biggest health programme intervention in the history of the continent, and digital technologies have a vital role to play," says Vodafone Business CEO Vinod Kumar.
The purpose of the mVacciNation partnership is to catalyse the collaborative, multisectoral response to member State challenges using the power of digital to drive change.
"Africa's booming digital sector offers great opportunities for public–private partnerships to help build resilience in the aftermath of the Covid-19 crisis and respond to critical continental priorities," says Mayaki.
Vodacom aims to work with AUDA-Nepad to build digital infrastructure to manage vaccinations across the 55 countries, following successful deployments in South Africa to manage Covid-19 vaccinations and in Mozambique, Tanzania and Nigeria to manage infant inoculations.
The mVacciNation modules are provided as network-agnostic, open-architecture and software-as-service solutions, with the aim of leveraging existing infrastructure and legacy system landscapes in the countries where they are deployed.
The initiative specifically responds to the AU's vaccine strategy objective of supporting the widespread distribution and management of vaccines with an African-developed solution, adds AUDA-Nepad chief of staff Jennifer Chiriga, speaking on behalf of Mayaki during a virtual launch on April 21.
"The mVacciNation toolbox addresses two critical priorities for African health systems – firstly, to ensure people get the right vaccine at the right place and time and, secondly, to provide real-time information for health workers on available vaccines and medical equipment."
Mezzanine digital health specialist Dale Sandberg explains that health systems across Africa are challenged, with fragmented processes and limited availability of strategic information for decision-making.
Challenges include uncertainty about demand and supply; lack of compliance; paper-based systems leading to fragmented data; poor visibility about stock management and availability; and compromised product integrity, owing to cold chain failures.
South Africa is the first country to invest in and use mVacciNation for Covid-19 vaccines, with the Department of Health (DoH) having used the toolbox to register health workers on its Covid-19 Electronic Vaccine Data System (EVDS), which was commissioned in January and launched in February. Nearly 500 000 vaccine doses had been administered as at mid May.
Over the past five years, the DoH has been developing the critical building blocks for a comprehensive digital health platform, says DoH policy coordination and integrated planning chief director Milani Wolmarans.
The modular nature of the toolbox enabled the DoH to integrate the relevant technology components into the EVDS, capitalising on existing investments and systems, and move into the live environment in a four-week period.
The mVacciNation solution has also been successfully deployed in Mozambique, Tanzania and Nigeria to manage infant inoculations.
According to the mVacciNation website, from 2014 to 2019, over 1.3-million Expanded Programme on Immunisation, or EPI, vaccination events were supported using mVacciNation, along with end-to-end visibility for commodity management.
"Making our mVacciNation platform available to all African countries will significantly enhance the continent's digital health infrastructure for the long term," adds Vodacom Group CEO Shameel Joosub, noting that the company's contribution will improve the capability of African countries during the pandemic and beyond for vaccine distribution, management and surveillance, even in resource-constrained settings.
In addition to providing access to a suite of solutions and advisory services designed to strengthen health service delivery and overall health system resilience, Vodacom is contributing R74-million to support the vaccine roll-out to vulnerable and hard- to-reach communities across its market in Africa.
This will provide cold chain technology and logistical support to help ensure the safe delivery of Covid-19 vaccines that need to be stored in cold temperatures.
The Solution
The mVacciNation solution is network provider agnostic, interoperable and configurable to align with local rules, workflow, language and protocols.
"In order to balance the demand-supply equation, the solution offers two core components, namely beneficiary management and supply chain/service point management," explains Sandberg.
The supply chain component provides health workers with real-time information on all available vaccines and medical equipment, including syringes and supplies, nationally.
A 'control tower' allows for the orchestration of stock to specific vaccination centres, and countries can link mVacciNation into their choice of temperature-controlled supply chain, drug safety (pharmacovigilance) and vaccination travel passport platforms.
"Access to adequate stocks of ancillary items like syringes or personal protection equipment needs to be guaranteed. Vaccines need to be stored in fridges or boxes where the temperature can be monitored to ensure efficacy, while healthcare practitioners and patients have to be at vaccination sites according to a schedule," adds Kumar.
Further, stockouts need to be minimised as much as possible to avoid needless, repeated, and often challenging journeys for vaccine recipients.
The beneficiary management component allows individuals to register on the platform and assigns them to vaccine service points on a specific day and time.
The mVacciNation toolbox updates the digital records of each vaccine recipient and, should a further dose be required, automatically schedules and sends a follow-up date through SMS. Once vaccination has been completed, the individual will receive electronic certification.
AUDA-Nepad is facilitating government engagement to link mVacciNation to policies and practices for the accelerated roll-out of the solution to AU member States.
Engagements with multiple stakeholders, including the Africa CDC, are also under way.
Once installed, the mVacciNation platform will remain in place to help countries better manage future pandemics and other large-scale health programmes, such as infant inoculations.
"As the development agency for the AU, we act as a channel to connect innovators and governments to roll out and localise these solutions," concludes Mayaki.