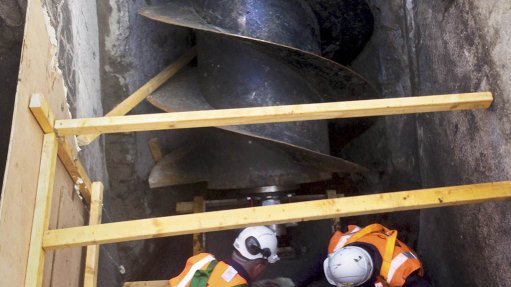 SCREW PUMPS Archimedes screw pumps from ECT have greater capacity and are easier to maintain
Engineering specialist Engineering Consulting Services (ECS) has been contracted to replace a range of screw pumps at water authority Severn Trent Water's large sewage treatment works in Mansfield, in England.
The project involves the replacement of three current screw pumps with the Archimedes screw pump range from ECS. Each of the current pumps weigh about 14 t, are 2.3 m in diameter and 13.5 m in length, and have a pumping capacity of 800 ℓ/s.
Completed Archimedes pumping systems are highly adaptable, with automatic adjustment of the pump capacity a function of the incoming flow and, depending on the pump installation, operating across a wide flow range, with capacities from 10 ℓ/s to 11.5 ℓ/s and lift from 0 m to 25 m.
With over 25 years' experience in water control and pumping projects, ECS's full turnkey service for the repair and replacement of Archimedes screw pumps and generators is an addition to the company's wider remit as a provider of general water control structures, bridges and structural fabrications. The core of the replacement service is an exclusive partnership with Dutch manufacturer Landustrie.
ECS screw pump installations offer a number of benefits, such as open, clog-free, robust construction, high efficiency, low maintenance and low operational costs. In normal operation and with correct maintenance, the Landustrie units deliver high reliability over the full lifetime of the product, with virtually no wear and no spare units being required.
"The elimination of the need for replacement spares has a big impact on whole life performance costs, not just in [terms of] replacement part savings, but also the associated construction, operational downtime and recommissioning costs required during replacement," the company notes.
This particular feature of the pumps is a key operational performance advantage, especially for water utility company contracts that are evaluated under the new Asset Management Plan (AMP6) capital and operational expenditure concept accounting model, which will cover the continuous improvement of water companies across the UK.
In normal operation and with correct maintenance, the Landustrie units deliver high reliability over the full lifetime of the product. .
ECS has experience in working on complex water control projects with major water utilities, as well as directly with national organisations such as the Environment Agency. As a framework contractor for the Environment Agency, together with a number of the UK water utilities, such as Scotland-based company Wessex & Southern, ECS builds and refurbishes large water control structures, including pumping stations as turnkey projects.
ECS will be exhibiting a range of Archimedes screw pump repair and replacement services, plus general water control project solutions at this year's Pump Centre 2016 Conference and Exhibition, which is held at the Telford International Centre, in Telford, England, during May.