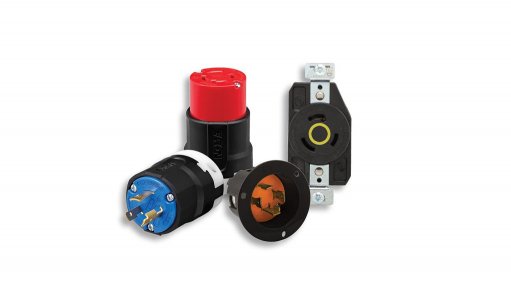 PERFECT PAIR Full locking device offering matches the IEC colour standard for voltage rating to easily identify circuit ratings
Power management company Eaton announces a new line of colour-coded Arrow Hart locking devices for use in commercial and industrial applications.
This solution brings the 6 V rating colours from the International Electrical Code (IEC) 60309 standard to locking devices, which then enhances safety and productivity by making it faster and easier to clearly identify circuit voltage.
"Locking devices, which are available in a variety of configurations and voltage ratings, have been on the market for more than 50 years," says Eaton wiring devices product manager Brian Groenig.
"Owing to the huge variety in products, matching up locking devices in the field is a cumbersome process for our contractors. "By adding a small but significant change, we are making these devices far easier to use. Instead of manually double-checking voltage ratings, users can simply match the colours before connecting."
The colour-coded locking devices are available in standard National Electrical Manufacturers' Association configurations for 20 A and 30 A applications. Each device type, including the plug, connector, inlet, outlet and receptacle, is produced using the colour that corresponds to the correct IEC voltage rating.
Groenig adds that colour coding provides an ideal solution for buildings with multiple circuit voltage ratings and applications, as well as portable equipment where frequent reconfigurations or setups occur.
Additionally, the devices also offer the many quality features contractors have counted on in the Arrow Hart line, including an alignment indicator to help orient the plug and connector during installation, robust locking mechanism to instil confidence and enhance safety during use, double dovetail cord grip for superior alignment and clamp force for wire retention, and highly visible and long-lasting circuit ratings printed on the devices.
Eaton's electrical business is a leader with expertise in power distribution and circuit protection; backup power protection; control and automation; lighting and security; structural solutions and wiring devices; solutions for harsh and hazardous environments; and engineering services.
Meanwhile, Eaton Electric South Africa is an awards sponsor at this year's African Utility Week conference that is taking place May 14 to 16 in Cape Town. The event brings together over 10 000 decision-makers to source the latest solutions and meet over 350 suppliers. Along with multiple side events and numerous networking functions, the event also boasts a strategic conference with over 300 expert speakers.