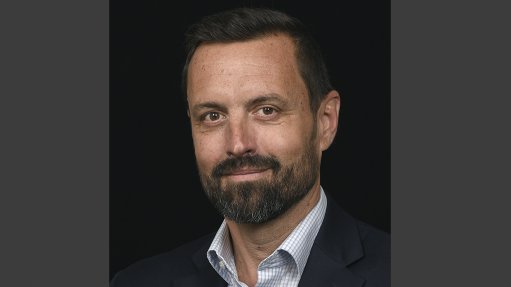 FELIX SEITZ Planning and supply lines give AGCO a competitive advantage in the market
Agriculture machinery manufacturer AGCO Corporation has introduced a number of high technology products into the market, with its German-engineered Fendt brand, that meets the needs of professional farmers to produce more with less environmental impact.
"With the demand for high technology solutions and confidence in the coming season, farmers are already showing interest in our Fendt machinery offering," AGCO Africa sales head Felix Seitz tells Engineering News.
Fendt, which is a global brand of AGCO Corporation founded in 1930 by Xaver Fendt and acquired by AGCO in 1997, produces a full-line range of agricultural machines including low and high horsepower tractors and combine harvesters. Apart from its latest tracked tractors, which are produced in Jackson in the US, all Fendt wheeled tractors are made in Marktoberdorf, Germany.
The Fendt IDEAL combines are produced in Breganze, Italy. Over the past six months, our best performing product lines, by units sold in South Africa, have been wheeled tractors and track tractors respectively, says Seitz. "We have also seen a gradual increase in sales and enquiries on our brand-new Fendt IDEAL combine harvesters since its launch in April 2021. We believe this may be due to residual effects from a large domestic agricultural output in 2019/20, meaning farmers have more to spend and are ready to adopt the latest in machinery technology." Fendt IDEAL is a completely new design from any conventional combine harvester.
The four-class models in the range are the Fendt IDEAL 7, 8, 9 and 10. The Fendt IDEAL is a smart solution featuring the latest sensors and smart networking. Fendt has also extended its Vario range, by adding the Fendt 200 Series – a completely new series. This series comprises the Fendt Vario 200 standard model and Fendt 200 V/F/P Vario for orchards. The latest generation of the Fendt 200 V/F/P Vario specialist orchard tractor series comes with the intuitive FendtONE operating concept, making it the first specialist orchard tractor with a fully integrated terminal and operator experience.
The added innovations include the demand-led Dynamic Performance power boost concept and an all-new cab design to suit any operator and conditions that the tractor is exposed to. The standard built-in technology enhances the everyday efficiency typically expected from a high specification German-engineered tractor. With Fendt being the global leader in building high horsepower tracked tractors, leaning on 30 years of experience, the Fendt 900 Vario MT and Fendt 1100 Vario MT are the latest additions to the multitracked range to hit South African shores this year. Fendt has linked their experience with innovation to create these new track tractors, helping professional farmers achieve the very best they can every day.
This equates to more ground traction, less soil pressure and optimal weight distribution across the entire contact area, even in the case of heavy loads, all combined with optimised driving experience. When we asked Seitz about the balance of the year for units sales and business outlook he responded: "We are confident that our planning and supply lines give us a competitive advantage in the market. This allows us to meet our sales targets that we have set for ourselves and continue to work closely with the South Africa Fendt dealer network to get closer to our customers," says Seitz. AGCO Africa presented the first group of Fendt South African dealers to stakeholders in April at the launch of the Fendt IDEAL range at the company's head office in Kempton Park, Gauteng.
"Spread across the diverse agricultural landscape of South Africa, we will continue to partner with our dealers to engage and support farmers throughout the lifecycle from purchase, full aftersales support and replacement of farming machinery," says Seitz. He adds that the Fendt brand is making an "enormous" impact in South Africa. "We invite fleet owners and large scale professional farmers to engage with us. For more information and to locate your nearest Fendt dealer, please visit our website," Seitz concludes.