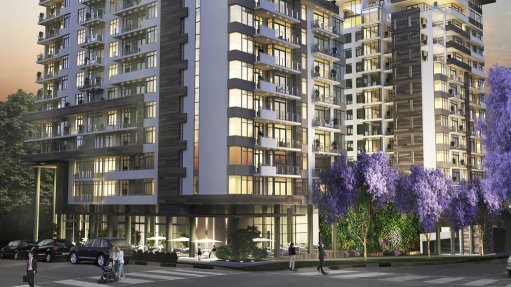 LIFESTYLE ACCOMODATION The Tyrwhitt will comprise about 200 apartments of several designs to cater to different lifestyle needs
Construction of The Tyrwhitt apartment block, in Rosebank, Johannesburg, launched by real estate agency Renprop in conjunction with development partner property management company Grapnel Property Group, has started, with expected completion in mid-2018.
This development follows the group's The Vantage apartment block across the road, which sold out at launch and is nearing completion.
Renprop MD Chris Renecle notes that, if The Vantage – Renprop and Grapnel's first residential development in Rosebank, launched in 2014 – can be taken as an example, owners at The Tyrwhitt can expect their asset to show solid growth during the construction phase.
"Owners at The Vantage benefited from capital growth higher than 25% during the construction phase, which took about 18 months. This is phenomenal growth for residential property and reaffirms the strong demand and need for executive apartments in Rosebank . . ."
The Tyrwhitt, located on the corner of Bath and Tyrwhitt avenues, will comprise about 200 apartments of several designs to cater to different lifestyle needs. In line with investor demand, there are predominantly one- and two-bedroom configurations. Apartments will be available from R1.6-million.
Further, a ground-floor coffee shop is designed to extend the boundaries of the commercial hub, "activating a pedestrian lifestyle", according to the company.
Construction Outline
The 12-storey building will comprise four underground storeys, three of which will be basements to a depth of more than 9 m below natural ground level. Piled foundations to a depth of another storey below this will amount to four storeys, or about 12 m underground, according to project civil engineering firm Knutton Consulting.
The reinforced concrete walls, surface beds, columns, beams and slabs for the building will require to more than 10 000 m3 of concrete, which will be delivered by about 1 100 truckloads of 9 m3 each.
A further 470 truckloads of 9 m3 each will be required for the delivery of the post-tensioned beams and slabs required for The Tyrwhitt, which totals about 4 300 m3 of concrete. About 2 400 m2 of lateral support will be required for the basement levels, Knutton Consulting points out.
Renecle adds that residents at The Tyrwhitt will benefit from the area's excellent access to public transport, most notably the Gautrain, which is just 500 m away, as well as easy access to the major road networks. Amenities, such as schools, shops, restaurants and medical facilities, are also within walking distance.
In February, Renecle confirmed in a company statement that Renprop has plans to launch at least five new residential developments this year, which will comprise more than 500 sectional title units being brought to market. "This is based on the projects for which we already have development rights in place," he said.
Despite a "lacklustre" economic outlook, Renecle believed that residential property would remain a good investment option for 2016.