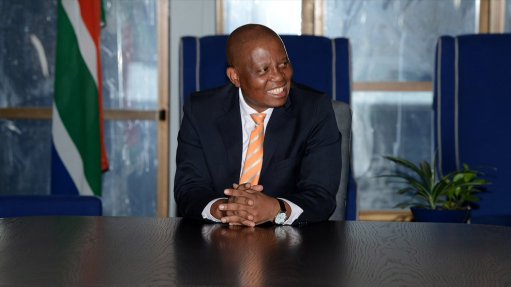 City of Johannesburg Mayor Herman Mashaba
The National Energy Regulator of South Africa (Nersa) on Wednesday hit back against City of Johannesburg Mayor Herman Mashaba, following his statement that Nersa was rewarding corruption at State-owned power utility Eskom with a municipal tariff increase.
The City of Johannesburg issued a statement on Tuesday, on behalf of Mashaba, in which it said that the municipality had noted "disappointing correspondence from Nersa", suggesting that municipalities would face a 15.63% tariff increase from Eskom, following negotiations between the two entities.
"Despite the City Power's efforts to absorb price increases arising from Nersa's decision to grant Eskom a tariff hike, this will still result in a 13.07% increase in tariffs for the City of Johannesburg versus the 12.2% which had initially been modelled by the City, based on the initial tariff increase requested by Eskom," said the statement.
Nersa hit back and said no tariff has been approved for any municipality for the 2019/20 financial year, as it was in the process of making a decision on the proposed percentage guideline increase, comments for which had a deadline of 12 April.
It emphasised its role as the regulatory authority of South Africa's energy sector and said as part of the Electricity Regulation Act, it had to regulate electricity prices and tariffs.
Nersa approves a yearly percentage guideline increase, which municipalities use to prepare their budgets, and it reviews the municipal tariff benchmarks, which are used in the evaluation of the municipal tariff applications and ensures that tariffs across municipalities are not hugely different.
Nersa explained that the approval of the municipal guideline increase follows a determination of Eskom's Retail Tariff Structural Adjustments, which Nersa approved in March. According to the guideline, the proposed weighted average percentage increase to municipal customers is 13.07%.
While no decision had been made on the municipal tariff increase, Nersa explained that an increase was necessary, owing to an under-recovery by Eskom in sales to municipalities, as a result of a time lag in the Municipal Finance Management Act (MFMA).
"The difference between Eskom's increase and that of the municipalities is due to the Municipal Finance Management Act, 2003 (Act No. 56 of 2003) time lag – the municipalities' implementation date is 1 July, whereas Eskom's financial year starts on 1 April. Due to the requirements of the MFMA, Eskom can only increase its prices to municipalities from 1 July 2019 and not 1 April 2019. The higher price increase results from the fact that the outstanding revenue has to be recovered within a nine-month period instead of twelve months," said Nersa.
However, it emphasised that relevant stakeholders were asked to submit comments on the proposed percentage guideline increase and that consultation workshops were held.
The regulator said it remained committed to its principle of being transparent in its decision-making process, and assured the public that its decisions were made following due regulatory processes.
"Nersa views the statement allegedly issued by Mayor Herman Mashaba as not only incorrect, but also misleading and mischievous, and condemns it in the strongest possible terms," it said.