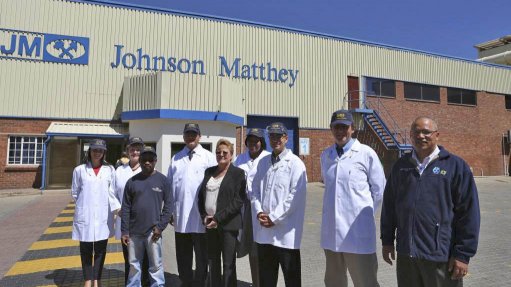 JOHNSON MATTHEY FACTORY Johnson Matthey South Africa joined a flagship energy-management project of the National Cleaner Production Centre of South Africa
The National Cleaner Production Centre of South Africa (NCPC-SA) will share its knowledge regarding resource efficiency and cleaner production methods to assist industry in lowering costs through reduced energy, water and material use during this year's National Association of Automotive Components and Allied Manufacturers show.
The event will take place on April 5 to 7 at the International Convention Centre, in Durban.
First-time attendant NCPC-SA energy systems optimisation project manager Sashay Ramdharee says that the NCPC-SA's mission is to foster the efficient use of resources, reduce tangible and intangible costs, and improve industry competitiveness in a sustainable manner.
"To achieve this, the NCPC-SA has five objectives: raising awareness, advocacy and demonstration of the benefits of its energy-management programme, technical support to industry, facilitating implementation of energy management in industry, as well as building capacity and development of energy-management skills," he points out.
A notable success of the NCPC-SA's working method in industry was automotive components manufacturer Johnson Matthey South Africa's (JMSA's), implementation of the flagship Industrial Energy Efficiency Project for the implementation of an NCPC-SA energy-management system (EnMS) in 2012.
"JMSA was the first in South Africa to implement such a project and completed its Stage 1 ISO-50001 audit in February 2013 at its manufacturing plant. The EnMS's underlying foundation is the Plan-Do-Check-Act cycle, also known as the Deming Cycle. It is an iterative four-step management method used in business for the control and continual improvement of processes and products," explains Ramdharee.
He notes that JMSA has reduced its energy consumption by 9.4-million kilowatt hours with a saving of R7.7-million in the first year of implementation. The financial savings have since progressively increased over the last three years.
"JMSA focused on two dimensions of electrical energy savings – reduction of loading and reduction of running times at its plant. The company also saved costs by eliminating waste, optimising existing operations and investing in new technology for efficiency."
Benefits of the ISO50001 certification include improvements on scheduling appointments, formal meetings, systematic processes, documentation, energy consumption and long-term targets.
Meanwhile, the NCPC-SA is working on the implementation of an EnMS at steel company ArcelorMittal South Africa, in Vanderbijlpark; ISO-50001 certification for automotive manufacturer BMW's Rosslyn plant, in Pretoria; pumps system optimisation for gold miner Gold Fields' South Deep plant, in Westonaria; and EnMS implementation for cement manufacturers AfriSam and PPC.