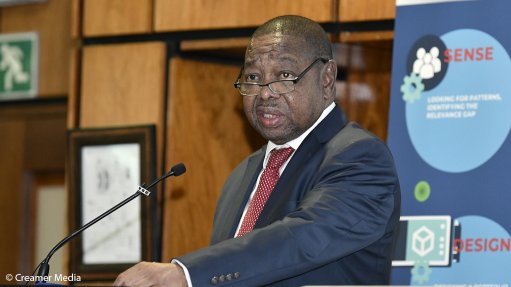 Dr Blade Nzimande
Photo by: Donna Slater/Creamer Media
Higher Education, Science and Technology Minister Dr Blade Nzimande has welcomed the allocations made to his departments (Higher Education and Training, and Science and Innovation) in the 2020 national budget. The budget assigns R396-billion to the two departments.
Two major initiatives are being launched with this budget. One is a science and technology university. "As a department we will in earnest commence with the feasibility study towards the establishment of a new University of Science and Innovation in Ekurhuleni [east of Johannesburg], and that the current phase of the project will be supported by the reallocation of existing financial resources within the Post School Education and Training Sector," he said.
The other initiative is the Pan African University for Space Sciences Institute, which will be located at the Cape Peninsula University of Technology. The department, he assured, would work with all stakeholders to drive this programme forward. It would also "immediately" start the processes necessary to access funding from the African Renaissance Fund.
"The establishment of the institute in our country will ensure that we continue to provide many opportunities for those in the space sciences industry, be it people focused on academia or providing technical and engineering skills," he affirmed. "In general, this institute has the potential to contribute to the improvement of our science, technology, engineering, and mathematics industries on our continent."