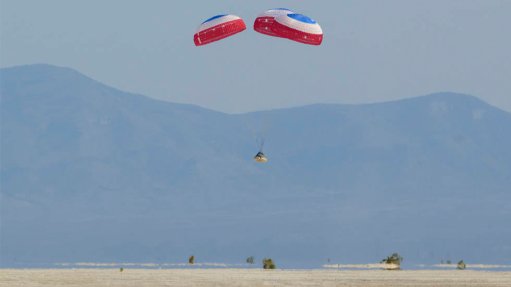 The Starliner touches down at the White Sands Missile Range in the US State of New Mexico
Photo by: Nasa
The Boeing CST-100 Starliner space capsule successfully landed in the western US, early Thursday morning (00h49) South African time. This marked the end of the Starliner's second uncrewed orbital flight test (OFT-2) mission, and the first such mission to be fully executed as planned.
The capsule undocked from the International Space Station (ISS) just over three hours before it jettisoned its service module and executed its 'de-orbit burn' (firing of its braking rockets, to cause it to drop out of orbit), at 00:05 South African time on Thursday. After re-entering the atmosphere, it successfully deployed its three main parachutes and six airbags (which act as its landing gear), and landed 44 minutes after the de-orbit burn.
The Starliner is intended, by the US National Aeronautics and Space Administration (Nasa), to be the competitor to SpaceX's Crew Dragon, under Nasa's Commercial Crew Transport programme. However, plagued by various glitches, the Starliner is now running about three years behind the Crew Dragon, which is now in routine service.
"Nasa's Commercial Crew programme and our industry partner, Boeing, today took a major and successful step on the journey to enabling more human spaceflight missions to the [ISS] on American spacecraft from American soil," said Nasa administrator Bill Nelson. "The OFT-2 mission represents the power of collaboration, which allows us to innovate for the benefit of humanity and spaceflight wouldn't be possible without the thousands of individuals who persevered and poured their passion into this great achievement."
The test flight saw the accomplishment of a series of test objectives. These included launching the Starliner using the United Launch Alliance Atlas V rocket with a twin-engined Centaur second stage; successful Starliner launch and normal trajectory to orbital insertion; validation of the ascent abort emergency detection system; capsule separation from the Atlas V; approach to, rendezvous with, and docking at, the ISS; after docking, opening (and later closing) the Starliner hatch, ISS astronauts entering the capsule, and the capsule entering quiescent mode. Crew habitability and internal interface were also evaluated. Then came the test objectives for the last phase of the mission: the undocking of the Starliner and its departure from the ISS; deorbiting, including the separation of the service and crew modules; capsule descent, and re-entry using its aero-deceleration system; and the precise landing and recovery of the spacecraft.
"We have had an excellent flight test of a complex system that we expected to learn from along the way and we have," affirmed Boeing Commercial Crew Programme VP and programme manager Mark Nappi. "With the completion of OFT-2, we will incorporate lessons learned and continue working to prepare for the crewed flight test and Nasa certification."