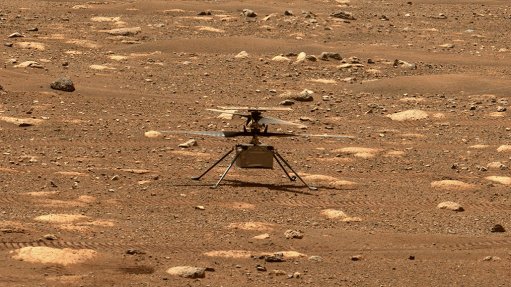 The Ingenuity helicopter sitting on the Martian surface
Photo by: Nasa
Engineers at the US National Aeronautics and Space Administration's (Nasa's) Jet Propulsion Laboratory (JPL) have developed a software fix for a glitch that developed in the command system of the Ingenuity helicopter. The problem emerged during a pre-flight test sequence for the Martian aircraft which was undertaken on Friday. This was a high-speed spin test of its rotors, which ended early when a monitoring and safeguarding system called 'watchdog timer' detected a glitch and terminated the test.
Ingenuity is a small drone helicopter. With a mass of 2 kg, it is purely a technology demonstrator, to establish whether such a craft can, in reality, fly in Mars' very thin atmosphere. Consequently, it carries no scientific payload. It was transported to Mars in the belly of the Perseverance lander, and subsequently deployed on to the Martian surface. Perseverance mounts Ingenuity's base station, which stores and relays communications between the drone and Earth.
After spending the weekend considering many possible options, the Ingenuity team decided that the best option was to make a small modification to the helicopter's flight control software and then reinstall it. The updated software will change the manner in which the drone's two flight controllers boot up. This will allow both the Ingenuity's hardware and software to safely move to 'flight state'.
The proposed software modifications are undergoing independent review in JPL testbeds. However, validating and uplinking the modified software to the helicopter on Mars will require some time. Established processes are being followed, with care and deliberation. These are composed of four main stages – diagnose the issue and develop likely fixes; develop, validate and upload the new or modified software; load that software onto the flight controllers; and, in this particular case, boot the helicopter on the new flight software.
The team has not completed these processes with Ingenuity. Once they have done this, they will make the helicopter ready for its first flight (which will also be the first flight of any human aircraft on a world other than Earth). As yet, they cannot give a target date for that first flight. They hope to set a date for that flight during next week.
"Ingenuity continues to be healthy on the surface on Mars," they assured in their report. "Critical functions such as power, communications, and thermal control are stable. It is not unexpected for a technology demonstration like this to encounter challenges that need to be worked in real time."