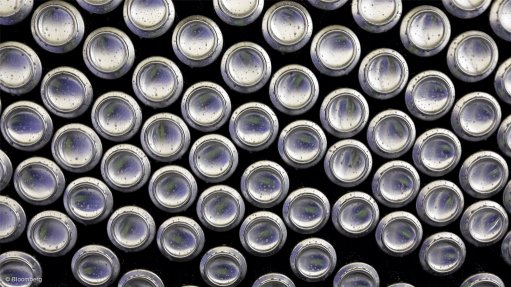 Photo by: Bloomberg
JSE-listed packaging group Nampak expects the sale of Nampak Glass and Nampak Nigeria Cartons to raise R1.9-billion, which is said to be applied to reduce dollar-denominated debt, in particular.
Additionally, the company confirmed on Wednesday, following the release of its results for the financial year ended September 30, that it had "made good progress" in selling its European plastics business, which will remove a pension liability of about R500-million from the balance sheet.
Nampak had called for offers to be received, CFO Glen Fullerton explains to Engineering News Online, adding that, in September, seven offers were received for the European plastics business.
Nampak has since narrowed it down to the "qualifying offers" and expects the transaction to be completed before the first half of the 2020 financial year.
For the financial year under review, Nampak's basic earnings were 76% lower year-on-year, at R272-million, while earnings a share decreased to 42.2c. Headline earnings and headline earnings a share both fell 69% year-on-year to R349-million and 54.1c, respectively.
Removing the impact of net foreign exchange losses in Zimbabwe, normalised earnings a share were down 17% to 146.4c, while normalised headline earnings a share were down 9% to 158.3c.
The board has decided not to resume dividends until debt levels are significantly reduced.
In a statement on Wednesday, Nampak outgoing CEO André de Ruyter, who will take up the position of CEO at power utility Eskom on January 15 next year, said Nampak continued to implement its strategy of rightsizing its portfolio by exiting noncore assets to ensure the company "is able to generate better returns from a lean and focussed asset base".
Fullerton tells Engineering News Online that the Nampak board will be running a process to consider candidates for the role. The announcement of De Ruyter's successor is expected by mid-December.
While Nampak has met its loan covenants, it intends to further deleverage its balance sheet using sales proceeds and enhanced cash generation from operations.
Cash generated from operations before financing activities has increased to R1.1-billion in the financial year under review, up from R300-million in the prior year.
Meanwhile, Nampak's core Bevcan business continued to perform well in Nigeria, achieving double-digit market share gains and increased sales volumes.
On Wednesday, the company indicated that a decision on expanding its production facility in West Africa was imminent, which would further increase its ability to tap into the fast-growing Nigerian demand for cans.
The first of the planned expansions will see Nampak's Angola production facility converting from steel plates to aluminum plates. The conversion will be completed by March 31, 2020, and will cost between $18-million and $20-million and will lead to an increased capacity of between 300-million and 400-million cans a year.
Nampak also intends to install a second line at its facility in Nigeria after the beverage can business experienced an increase in demand of 20% this year. The $60-million expansion is expected to take between 12 and 18 months to complete.
Fullerton notes that, particularly in the Nigerian market, there is a very high rate of beverage can recycling.
"Nampak is very conscious of making sure that incentives drive the recyclability nature of the aluminum it uses. I don't think that that will materially impact the environment in a particular way if it is managed well," he says.
In South Africa, however, Fullerton says Nampak has a joint venture with beverage can collectors, who have "a very strong focus on ensuring that all of that aluminum recycling is attended to".
In South Africa, Nampak managed to retain a market share in excess of 80% in the beverage can market, despite the entry of two new competitors – Golden Era and GZ Industries (GZI). The market itself grew by more than 6%, a strong performance in an otherwise constrained consumer environment.
Fullerton is not overly concerned about Nampak's new competitors, explaining to Engineering News Online that the South African market alone requires about 3.6-billion cans a year. Referring to analyst reports, Fullerton says this suggests that, in time, each of the competitors are likely to hold a market share of about 33%.
However, he notes that the introduction of the sugar tax – which saw 440 ml cans reduced to 400 ml and 330 ml cans reduced to 300 ml, among others – has increased the number of can sizes in the market from six to eight. And to cope with this level of competitiveness, and only one production line – like what Golden Era is said to have – is "surely difficult".
Fullerton explains that with the 3.6-billion can market split into three, in order to achieve production of 1.2-billion cans a year at this stage, it would mean that a production line would need to be run at nameplate capacity; meaning at maximum speed, for 365 days a year and at 24 hours a day.
"You cannot do that when you have to have planned downtime and maintenance and eight different cans that you have to manufacture. At best, one could get a run rate of 700-million to 800-million," he points out.
Fullerton explains that, with the compound growth rate seen in the market, there will be limits to the market and in response to these, Nampak has closed its tin plate line in Cape Town, which has added a capacity of 600-million cans, thereby balancing the market "quite quickly".
"Not only was Bevcan South Africa able to deliver stable profits for the year thanks to cost saving and efficiency gains, but we also successfully developed new market categories in wine, water and craft beer," De Ruyter noted in the statement.
Additionally, Nampak has achieved a Level 2 broad-based black economic empowerment contributor rating, which it regards as a key competitive advantage in gaining market share from competitors in South Africa.
According to Fullerton, the Level 2 rating places Nampak "on even footing" with its competitors, especially when customers' procurement focus is on buying from companies with substantial and good ratings from a BEE perspective.
"It certainly does influence purchasing decisions and that's why we think it's going to assist us in achieving our strategic objectives," he comments.
Cash balances in Angola and Nigeria have, however, reduced significantly, with a total of R3.2-billion – R1.7-billion from Angola and R1.5-billion from Nigeria – transferred for the year.
Hedging instruments have been highly effective during the devaluation of the kwanza and have protected Nampak shareholders against potential losses of some R1.9-billion since the inception of the hedging programme, the statement said.
"Angola and Nigeria are now effectively unconstrained from a cash transfer perspective, and the businesses are delivering solid cash flows back to Nampak," De Ruyter commented.
Meanwhile, the availability of foreign currency in Zimbabwe is said to remain challenging, with only R43-million was transferred for the period. Owing to the depreciation of the Zimbabwean dollar to the dollar from 2.54 to 15.20, Nampak had a net devaluation loss of R1-billion.
Nampak has not extended any further credit to its Zimbabwean operations since April 2018, and the Zimbabwe businesses are self-funding through prepayments from customers and exports to other African countries.
According to De Ruyter, the hyperinflationary environment in Zimbabwe, coupled with the rapid depreciation of the Zimbabwean dollar by more than 100% in just nine months, has created an environment where the remaining cash balances had to be written down to reflect the new reality of a much weaker currency.
"We put in place a hedging agreement with the Reserve Bank of Zimbabwe to protect some R800-million of the cash balances, but took a prudent view on this hedge and have provided for an expected loss on this amount of 85%," he elaborated, adding that if Nampak should recover more than this, shareholders will benefit in future years.
Cost containment was a major focus for the year, with savings of R412-million delivered, and a cash release of R200-million from supply chain optimisation. Nampak has focused on operational efficiencies, cost containment and rightsizing of divisions as part of an ongoing programme which is targeting a minimum of a further R150-million over the next 18 months.
Revenue from continuing operations decreased by 8% year-on-year to R14.6-billion, with Bevcan South Africa performing commendably, despite new competitors in South Africa and Bevcan Nigeria delivering a stellar performance, with double-digit volume and revenue growth. The Nigerian pack share for cans is still very low, which creates substantial upside for growth in spite of a moribund Nigerian consumer sector.
This, Nampak explained, partially offset the impact of consumers' reduced purchasing power in Angola following a currency devaluation, as well as increased competition in Divfood and Plastics South Africa.
Further, the company's trading profit decreased by 21% year-on-year to R1.6-billion and margins dropped from 12.3% to 10.6%, owing to a weaker performance in the Metals and Paper divisions.
Softer demand at Divfood South Africa and Bevcan Angola impacted on overall profitability, and various operations in the rest of Africa also reported lower trading profits owing to challenging economic conditions. These were partially offset by improved profits at Megapak in Zimbabwe.
Operating profit of R2.1-billion, before the net foreign exchange losses in Zimbabwe, increased by 35%, assisted by sound management of employee costs and other overheads and active management of controllable items.
The net devaluation losses of R1-billion in Zimbabwe led to reported operating profit declining by 84% to R254-million. Profit before tax fell to R6-million for the same reason. A change in tax law in Angola in the second half of the year limited the deductibility of foreign exchange losses to 7%, significantly impacting on the group's tax charge and, consequently, the effective tax rate leading to a net loss for the year of R390-million.
The tax provision is not expected to translate to a cash liability and, therefore, will have no effective bearing on cashflows either now or in future.
De Ruyter further added that Nampak's factories had operated well, and that the company managed to mitigate the impact of weak macroeconomic conditions and increased competition by "managing factors within [Nampak's] control and produced good results, while faced with protracted subpar economic growth and intensified competition in South Africa".