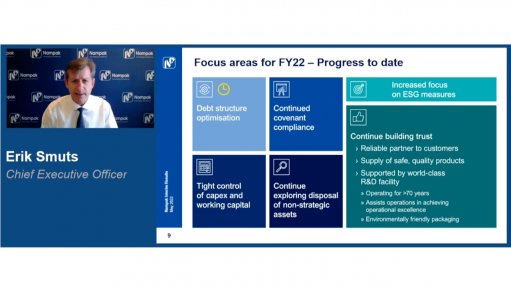 Nampak focus areas progress update
JSE-listed Nampak has announced improved trading conditions for the six months ended March 31, in what it says was a challenging period.
The period was characterised by robust trading conditions in key markets and Nampak's Metals businesses were the main contributors to revenue and trading profit growth.
Revenue for the period was R8.1-billion, up 24% year-on-year, driven by healthy demand in key markets, coupled with higher selling prices caused by elevated commodity and raw material prices.
While trading profit improved by 9% to R770-million, group trading margins contracted to 9.5% from 10.8% in the first six months of the prior financial year owing to the recovery of abnormally high commodity-driven cost increases in prices.
Operating profit grew by 26% year-on-year to R668-million, with CEO Erik Smuts attributing the improved profitability to significant gains in the Metals division and reduced adjustments to trading profit.
Income tax reduced by 30% to R71-million and the effective tax rate dropped to 18.1% from 37.1%.
Profits attributable to equity holders improved by 102% to R222-million, resulting in earnings a share and headline earnings a share rising by 105% and 102% to 34.9c and 35.6c, respectively.
While cash generated from operations before working capital was 30% higher at R1.1-billion, R653-million was used to fund increased working capital requirements given higher demand and significantly elevated commodity prices.
Capital expenditure (capex) was noted to have remained well controlled and was 39% lower at R94-million, of which 92% was replacement capex.
Net interest-bearing debt per covenant of R5-billion was 9% higher. An additional R433-million was drawn during the period under review to partially fund increased working capital requirements and improve cash reserves.
In line with previous communications, the board has decided not to resume dividends until debt is at a more sustainable level.
"Nampak had a rewarding yet challenging first half, with improved trading conditions. Our beverage can businesses achieved remarkable performances, providing the foundation for a strong improvement in overall results, supported by resilience from our Zambian and Zimbabwean operations.
"Revenue, profitability and cash generation improved significantly," Smuts says.
Unprecedented global shipping challenges and supply chain disruptions were the two biggest challenges for the group.
"We have worked closely with various stakeholders to navigate this unique period in order to ensure continuity of supply to our customers and sustainable profitability for the group going forward," Smuts says.
He highlights a strong theme to have emerged during the period as an increase in commodity prices.
He elaborates that aluminium prices doubled from 18 months ago, with this being one of the company's major inputs. Similarly, polymer prices increased by between 21% and 51% since April 2021, he notes, adding that this impacts on the company's Plastics business.
DIVISIONAL OVERVIEW
Revenue from the Metals division increased by 27% to R6-billion as demand increased in South Africa, Nigeria and Angola.
The South African beverage can market experienced strong growth owing to increased demand for larger can sizes driven by continual growth in the beer, cider and energy drink markets and shortages of other packing substrates.
DivFood in South Africa had good revenue growth driven by volume recovery in fish cans.
Revenue for the Plastics division grew by 10% to R1.6-billion, largely driven by the strong performance of the group's Zimbabwean operations.
Rigid Plastics' performance in South Africa was limited by lower volumes for liquid bottles caused by strikes at two key customers' operations.
The Liquid Cartons business in South Africa experienced moderate revenue growth supported by improved operational efficiencies.
Overall profits for the Paper division were maintained, despite a very challenging operating environment.
Nampak's management and board are reviewing the group's capital and funding structure with the view to addressing all matters comprehensively and plan to finalise a refinancing process before September 30.
OUTLOOK
"Despite the impact of the conflict in Ukraine, increased commodity prices and a higher interest rate cycle on global inflation, we expect continued growth in the local beverage can market, while improved demand for fish cans is expected to drive growth at DivFood.
"Given the ongoing global supply chain challenges, the Plastics businesses will continue focusing on reducing complexity and right-sizing operations to improve profitability.
"The Liquid Cartons business is expected to benefit in the second half as delayed export volumes are expected to resume and boost local production volumes," Smuts points out.
Also in South Africa, Smuts says its South African Plastics operations will focus on right-sizing the operations to improve profitability.
He notes that the company will continue with its review and optimisation of its balance sheet.
It has not yet been successful to date in disposal of previously identified assets. The company will continue to explore asset disposal opportunities.