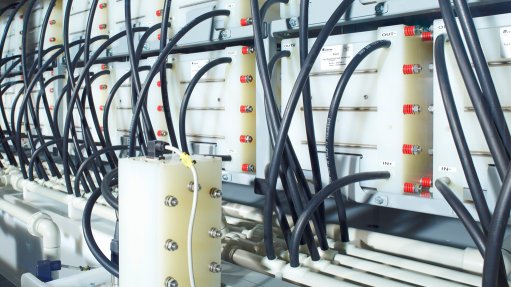 Gildemeister's CellCube vanadium-redox flow battery
Photo by: American Vanadium
TORONTO (miningweekly.com) – While several industry players are jostling to take advantage of the budding North American vanadium-redox flow battery (VRB) market, barriers to entry, such as raw material cost and equipment availability, are still issues, making input costs prohibitive.
"The industry is still looking for a champion. If battery producers can commercialise economic VRB production, there's no reason this technology couldn't become a major segment of the utility battery market in the longer term," Benchmark Mineral Intelligence consultant Andrew Miller explained to Mining Weekly Online.
He saw a bright future for VRBs in the stationary storage market; however, this would ultimately hinge on production costs.
GROWING OPPORTUNITY
VRB showed that it had significant potential in this part of the market and was touted by World Economic Forum founder Klaus Schwab in a presentation during the recent event held in Davos, Switzerland. He underlined that batteries were core to the fourth industrial revolution.
". . . [E]nergy storage and batteries that will make this possible on a mass scale, are key to a fourth industrial revolution," he said on February 1.
In the US alone, grid connected energy storage had been estimated as a $150-billion opportunity. Goldman Sachs also recently estimated that VRBs were 50% lower in cost than lithium-ion batteries on a level cost of storage basis.
According to Navigant Research, VRBs were expected to make up almost 20% of global storage markets; growing at more than 35% through to 2025.
The VRB is a type of rechargeable flow battery that employs vanadium ions in different oxidation states to store chemical potential energy. The VRB leveraged the ability of vanadium to exist in solution in four different oxidation states and used this property to make a battery that had just one electroactive element, instead of two.
VRBs, which were inclined to be bulky in size, were most suitable for grid energy storage solutions, such as when connected to renewable energy plants or used to shave peak power costs.
"[VRB] hasn't yet overcome the barriers to adoption, which lithium-ion cell producers are addressing at the moment with mass-scale capacity expansions and [a drive to bring] down the cost of production," noted Miller.
The scarcity of components and inputs, such as the vanadium electrolyte (VE) had, in some cases, prompted battery developers to lease their vanadium in the battery, rather than selling it outright, as it could also be recovered and recycled, which was one of the significant benefits of the technology.
"We at Benchmark see the utility storage market where electric vehicles were five years ago. The industry is still relatively immature and it's unclear how the technologies here will evolve over the coming years. What we think is certain is that the range of technologies will be much more diverse than in electric vehicles – providing an opportunity for VRB producers," he advised.
Miller said that lithium-ion had become the predominant technology in mobile storage because it is best fit for the use: lightweight and dense enough to carry the required energy for a vehicle.
However, in utility energy storage applications, this would not be an issue, as the batteries did not move – they were stationary. "So while the falling costs of lithium-ion cells could potentially open up a massive new market, it may not be the most efficient technology for stationary applications," said Miller.
LOWERING COSTS
Miller advised that while commercialisation was key to the adoption of these technologies, VRB faced a challenge in terms of lowering the unit cost of production and a major part of this was lowering the raw material cost.
"Today, the cost and availability of vanadium are prohibitive to increased adoption rates. It will be the challenge of raw material producers to increase this availability to allow for greater uptake in the market," he said.
That is where Vancouver-based project developer VanadiumCorp proposed an answer, with CEO Adriaan Bakker billing the company's Lac Doré project, in Quebec, as the largest National instrument 43-101-compliant vanadium resource in North America.
"It's the true key to lowering the cost of VRB," he told Mining Weekly Online in a recent interview.
TSX-V-listed VanadiumCorp would target the primary VE, vanadium chemicals and the vanadium pentoxide (V2O5) markets to maximise competitive advantage, as it embarked on a preliminary economic assessment (PEA) for its 100%-owned Lac Doré project.
"The industry assumption that VRBs will remain expensive is driven by the lack of a primary VE producer," stated Bakker.
Being a North American supplier would reduce costs as well as political risk, compared with vanadium supply from other countries. Bakker advised that the market study chapter of the Lac Doré vanadium project's PEA would seek to highlight strong demand for premium vanadium products in the domestic market, as well as growth and forecasts for VRB technology for grid storage, peak shaving and mobile applications.
The company added that a similar market study by the Canadian government was also starting this year.
In 2015, the company reported an inferred vanadium resource of 621.21-million pounds V2O5, with favourable metallurgy. The company was busy developing a business model that combined VE process development and pilot plant options, for which selecting engineering firms and interested partners was currently under way.
Meanwhile, primary vanadium producer Largo Resources was having a tough time running the Maracas Menchen mine, in Brazil, as design issues, low vanadium prices and cash-flow issues dogged the operation. Other vanadium production was largely tied to steel production, which tumbled as the world was dealing with slower growth and reduced consumption prospects in China. This resulted in a collapse of vanadium prices and reduced output from the main producers, namely South Africa, Russia and China.
DOWNSTREAM CAPABILITY
China-based firms making headway in establishing VRB production lines included Prudent Energy, Golden Energy Century, Rongke Power, Shen-Li High Tech and Golden Energy Fuel Corporation. US-based VRB manufacturers included Imergy Power Systems, UniEnergy Technologies, Vionx Energ and WattJoule, while EU-based VRB manufacturers comprised Gildemeister Energy Solutions, HydraRedox, RedT and Schmid Group.
Meanwhile, Canadian firm Sparton Resources was gaining experience in the installation and commissioning of VRBs, after subsidiary VanSpar Mining played a critical role in raising finance for China's Zhangbei project's 8 MWh VRB that was recently commissioned successfully, becoming the world's largest active VRB installation.
Sparton president Lee Barker told Mining Weekly Online that, while the successful commissioning of the VRB had generated immediate revenue for the company and included a maintenance contract, it was in talks to buy private firm Prudent Energy, which was the designer, manufacturer and integrator of the patented VRB energy storage system.
This would allow Sparton to market the technology on home soil and, when combined with its high-grade black shale vanadium deposits in China, for which it had four patents to extract vanadium cheaply, could position the company as a vertically integrated VRB supplier of the future.
Meanwhile, TSX-V-listed American Vanadium in January entered into a letter of intent (LOI) with German firm DMG Mori to acquire its wholly owned subsidiary Gildemeister Energy Storage (GES), manufacturer of the CellCube vanadium-flow energy storage system.
Pending financing, the LOI provided American Vanadium with the exclusive right to enter into a share purchase agreement by February 29.
American Vanadium at the time advised that it was working with its advisers to develop a financing plan for the acquisition of GES. Various alternative structures were being evaluated, including the establishment of a wholly owned subsidiary – Newco – for the acquisition and a subsequent financing of Newco. American Vanadium would release further details once plans had been finalised.