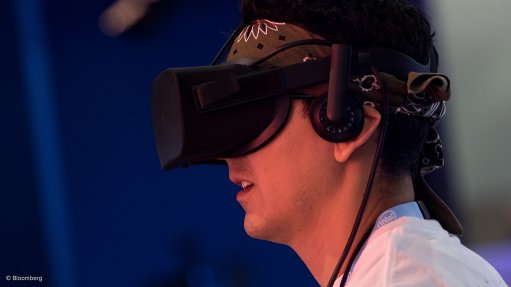 WHOLE OTHER DIMENSION Three-dimensional modelling allows for a project's building design to be viewed in virtual reality using headsets
Photo by: Bloomberg
Engineering professional services consulting firm WSP Africa is making its infrastructure consultancy offering available through one multidisciplinary project delivery platform.
WSP Transport and Infrastructure MD Dr Terence Milne joined the company last month to spearhead this venture and leverage his experience in project management and engineering project delivery of nearly three decades.
WSP has been involved in many building projects, where the company has brought in the full scope of engineering, green building and other services. The idea is to now apply this method to major projects in the resources sector. "The whole is more than the sum of its parts."
Milne indicates that this new multidisciplinary approach will not make WSP's strong partnerships with quantity surveyors, project management companies and contractors obsolete, but rather, will strengthen them. This is because WSP will require their skills to deliver the full range of services, from concept studies to delivery.
WSP will leverage existing partnerships from previous projects managed, to be entrusted with larger projects. Milne indicates that taking on larger projects will enable the company's transformation journey. Further, larger projects will mean a consistent stream of work for WSP's people, therefore, furthering their development.
Milne says the immediate plan for the project platform is to coordinate WSP's offering for presentation to the market. He expects a good response because it will offer "a fresh look at projects", and flexibility in terms of the magnitude or type of project delivery tools and the type of composite teams assembled. This flexibility will allow for services to be tailored to clients' workflow.
For example, if the client follows an integrated team approach, WSP will adapt its systems, use the client's systems or bring in systems to accommodate this. "We're starting from scratch so that we may mould ourselves to the market."
Moreover, Milne believes that a multidisciplinary approach will also make it easier for WSP to tap into its global network of specialists, such as its Ports Marine Unit in Stellenbosch, Western Cape.
He emphasises the importance of having a solid project platform in pursuing such an approach. This platform – software, document controls and dashboards – must be accessible globally to the relevant people, who can then work on the project's latest revisions from it.
New Building, New Technologies
WSP will move to its new building in Knightsbridge, Johannesburg, in September. The office building will boast an i-Design room, which will offer virtual reality technology and immersive technology opportunities for project delivery in three-dimensional (3D), four-dimensional (4D) and five-dimensional modelling (5D), as WSP branched into 3D, 4D and 5D modelling several months ago.
Milne says, through 3D modelling, a project's building design can be viewed in virtual reality using headsets. It is important for major projects, as it allows for terraces, roads, conveyers and highways to be added to the design of the main building structure. Such modelling also allows for clash detection – for example, where pipes are going through walls, handrails are not in place and pumps are obscuring access – which can be prevented. Safety, environmental, and operational aspects are also enhanced, because possible problems are discerned through virtual visualisation, allowing these to be addressed timeously.
He indicates that 4D modelling is the 3D project design, with the added element of the project's schedule. 4D modelling enables WSP to start sequencing how it will build the infrastructure. This, combined with enhanced safety from 3D modelling, lessens the risk of the project, facilitating a reduced snaglist on projects.
Several key WSP teams have used 5D modelling, which is a 4D model with the added element of the project's cost.
WSP's new Knightsbridge facility contains a room where this service is available at all times.
WSP aims to incorporate these modelling technologies as the standard offering for clients, as part of the company's multidisciplinary platform. Although Milne concedes the elevated upfront design cost of using these technologies, this will be offset by savings in capital expenditure.