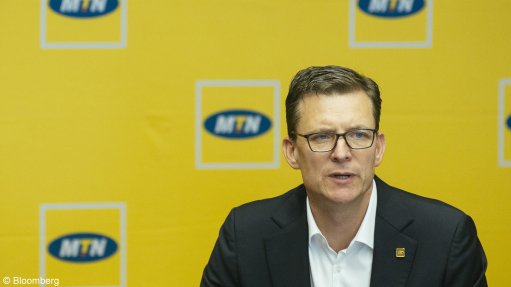 Outgoing CEO Rob Shuter
Telecommunications group MTN said on Friday that its succession process for group CEO was on track and that it would make an announcement in the next four to eight weeks.
This comes as outgoing CEO Rob Shuter has been appointed CEO UK-based telecoms firm BT Group's Enterprise division.
His fixed-term four-year contract with MTN comes to an end in March 2021.
Meanwhile, the South Africa-headquartered company said that it would report significant earnings growth for the six months ended June 30.
The group's earnings per share (EPS) were expected to be between 160% and 170%, or 406c to 432c, higher than the restated EPS of 254c for the corresponding six-month period last year.
Headline earnings per share (HEPS) were expected to increase by between 115% and 125%, or 224c to 244c, to reach between 419c to 439c for the six months under review, from the reported 195c last year.
The reported EPS would include the benefit from gains amounting to 341c on the disposal of the ATC Uganda and ATC Ghana tower joint ventures, while HEPS benefited from nonoperational items of about 46c apiece, of which more than half related to foreign exchange gains.
MTN stated that it would not declare a 2020 interim dividend in an effort to sustain progress made in strengthening its financial position and maintaining a healthy liquidity position amid the Covid-19 pandemic impacts.
"Should conditions warrant a final dividend, this would be no more than 390c a share, aligned to the current dividend policy. The key factors to consider will include the general macroeconomic environment, the status of cash upstreaming from operating companies and the outlook for the holding company leverage ratio," the company said in a statement.