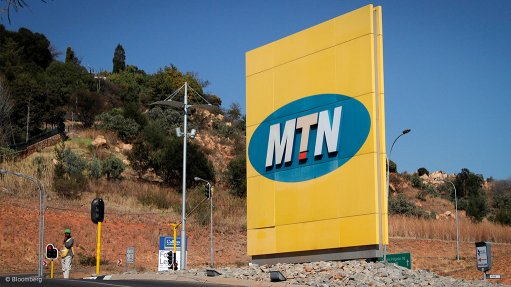 Photo by: Bloomberg
MTN Group has decided to abandon its Syria operations immediately on the back of untenable operations owing to regulatory actions and demands and is reserving its right to seek redress through international legal processes.
During a media briefing on the financial results for the six months ended June 30, 2021, MTN Group president and CEO Ralph Mupita said that the actions of the Syrian authorities have left the company with no other choice than to exit.
"Having considered the fact that we have lost control of the operation, through what we feel was an unjust action on the legal guardianship, and then further [facing] demands on the back licence, we decided that we are going to abandon the operation," he said.
"We are also making a clear statement that we are reserving our rights to seek international legal processes to protect our own interests."
Mupita explained that it had become intolerable operating in Syria, given all the demands.
The group has been operating in Syria since 2006, and recently announced plans to exit the Middle East operations through the $65-million sale of its 75% stake to minority shareholder TeleInvest.
In February, MTN Syria was placed under judicial guardianship by the Administrative Court of Damascus after the Syrian Ministry of Telecommunications and the Syrian Telecommunications and Post Regulatory Authority filed a lawsuit seeking interim measures against MTN Syria over alleged violations of the terms of its licensing contract, which the State says deprived the government of revenue. MTN denied the allegations, protesting that the claims put forward had no basis and that MTN intended to appeal.
The court appointed MTN Syria minority shareholder TeleInvest's chairperson to serve as the judicial guardian and take over responsibility for managing the day-to-day operations of MTN Syria.
Further, MTN faced a demand for back licence payments for 2015 to the value of 100-billion Syrian pounds, which MTN also argued had no basis as the licensing process was concluded in 2015, with all fees paid to the satisfaction of the authorities.
MTN Syria represented less than 1% of MTN Group earnings before interest, taxes, depreciation and amortisation at the end of 2020 and accounted for about 0.4% of group service revenue.
"Those are the factors that drove our decision," he said.
MTN Group continues to explore options to exit Yemen and Afghanistan in an orderly manner.
Meanwhile, MTN has also decided not to pursue a licence in Ethiopia after losing out on a bid for a new telecoms licence to Safaricom-led consortium Global Partnership for Ethiopia.
"Our bid took into account the licence conditions as well as related uncertainties. We had also adopted a partnership approach to ensure that funding and risk was diversified. While disappointing, we are comfortable that our approach was guided by disciplined strategic and capital allocation frameworks."
The group has decided not to participate in the new liberalisation processes underway in Ethiopia, taking into account the strategic financial risk criteria and the fact that MTN would be entering as a third operator.
"We have a belief that it is very difficult for a number three operator to make the economics work," Mupita commented, noting that it is a return-based decision.
MTN has always aimed for the number one or number two position in any market it enters. With Ethio Telecom already the incumbent and the Safaricom consortium working on getting operations up and running, it would be the first time MTN enters a market as challenger number three.
Mupita concluded that MTN already had "a lot in the portfolio to do" to create value over the next few years.