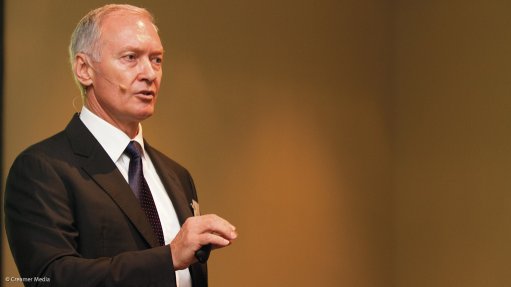 M&R CEO Henry Laas
Photo by: Creamer Media
Engineering and construction group Murray & Roberts (M&R) has added a further R10-billion to its order book, which stood at R46.8-billion at the end of July, and CEO Henry Laas believes the backlog could rise even further in the months ahead.
At the end of July 2018, the group's order book stood at R30.1-billion.
M&R is bidding on, or preparing bids for, contracts valued at R200-billion, Laas reports, indicating that, in the recent past, the group has typically converted about 45% of its bids into orders.
In nominal terms, the company's order book, which is approaching R60-billion, exceeds its previous peak of R55-billion, recorded in 2011.
M&R has undergone significant restructuring since then, however, to focus primarily on underground mining, oil and gas, as well as the power and water markets. It has sold various noncore businesses, including the infrastructure and building divisions that made it a household name in South Africa.
The recent increase in the order book is underpinned mainly by new orders placed with its oil and gas platform, led by Australian contractor Clough.
At the end of June, the platform's order backlog stood at R23.1-billion, but post-year-end Clough secured a R9.4-billion order for a petrochemical contract in the US. Laas reports that the oil and gas platform is currently bidding on contracts worth R158-billion.
He also expressed optimism that the platform, which reported an operating loss of R98-billion in 2019, would return to profitability in the coming year.
M&R reported a 26% rise in attributable earnings to R337-million for the year to June 30, 2019, from R267-million in the previous financial year, despite a 7% fall in revenue to R20.2-billion from R21.8-billion.
The result was lifted by a record performance from M&R's underground mining platform, which reported an operating profit of R814-million, up from R471-million in 2018.
M&R has underground mining orders in Africa, North America, Australia and Asia, worth a combined R22.8-billion currently and is bidding on a pipeline of potential contracts valued at R36.7-billion.
"Although few greenfields projects have come to market, many mining houses have invested in brownfields projects extending the capacity and lives of existing mines."
Prospects are less buoyant, however, for M&R's power and water business, which is heavily geared towards project activity in South Africa and sub-Saharan Africa.
The platform's order book stood at below R1-billion at the end of June, as the Medupi and Kusile coal projects in South Africa tapered and with few water opportunities being released to tender.
"Given the depressed state of African power and water sectors, the platform has also extended its service offering to complementary markets, such as petrochemicals, metals and minerals and pulp and paper," Laas reports.