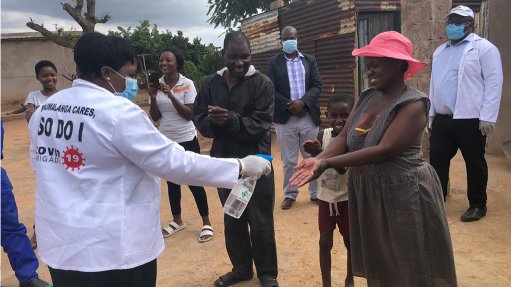 Mpumalanga Premier Refilwe Mtshweni-Tsipane on Wednesday delivered two trucks full of sanitisers to the Siyabuswa community in Mpumalanga, as part of government's efforts to curb the spread of the coronavirus (Covid-19).
Mtshweni-Tsipane said the mission was to ensure that each household was protected during the coronavirus outbreak.
"With these buckets of sanitisers we want our people to sanitise themselves and avoid contracting the coronavirus during the outbreak. We have made sure that the buckets we are handing over are written in languages better understood by [the various] communities," Mtshweni-Tsipane said.
The sanitisers are meant to last for 22 weeks.
"For the sake of the buckets of sanitisers to last the period of 22 days, residents are advised not to use them to mop the floor. Our volunteers will educate residents on how to use the sanitisers in the buckets; they should not just be shoved with the buckets without being thoroughly explained how to use them. Volunteers must also alert residents not to expose the sanitiser buckets to children as they might think the buckets contain drinkable water and endanger their health," said the Mpumalanga Premier.
The Mpumalanga government will also fumigate all health facilities to prevent further spread of the pandemic.
"We will be fumigating all government facilities where we know people gather in crowds; places like hospitals, the ambulance and home-based care centres to protect them from being contaminated with the coronavirus," she said.
Mtshweni-Tsipane reminded the residents of Siyabuswa to continue adhering to the rules and regulations regarding coronavirus, as the virus affected everybody.
"It is important to remind residents to wash their hands, sanitise and to remain in their houses until the outbreak ceases. Let us continue with social distancing and observing the regulations with regards to the Covid-19 pandemic because this disease does not choose who you are or the colour of your skin or your political party affiliation," said Mtshweni-Tsipane.