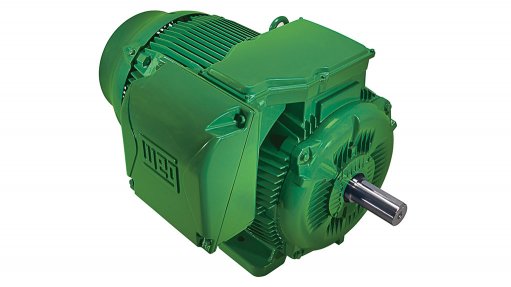 WEG MOTOR SCAN The sensor measures the vibration, temperature and operational hours of electric motors to detect irregularities
With leveraging digital technology said to be key to participation in the next wave of economic growth, the launch of the WEG Motor Scan has become a reality for South African companies in various sectors, says motors and controls manufacturer Zest WEG Group rotating machinery sales manager Francois Labuschagne.
Launched locally at Electra Mining Africa 2018, and designed to maximise uptime and enable predictive and preventative maintenance, WEG Motor Scan is a monitoring solution for electric motors. Electric motors are subjected to high stresses and extended operating hours, however they seldom break down without warning.
"Signs of impending failure are often presented in the form of increased vibration and high temperature. If this is not monitored and remains undetected it could lead to serious issues such as complete outages, unplanned and extended downtime and financial losses. Constant monitoring of vibration, temperature and operating time is important on electric motors. This allows potential problems to be flagged early and this means maintenance and if necessary repairs can be done timeously thereby avoiding unplanned downtime."
Until the launch of the WEG Motor Scan, Labuschagne notes that the task of inspecting motors was a manual process and because of this, it is often neglected with negative impacts on operations.
"Being able to constantly monitor electric motors while in operation can boost productivity significantly."
The innovation of the WEG Motor Scan removes all guesswork and human error allowing end-users to undertake proper preventive maintenance, he points out. "Without being able to monitor electric motor operation, there has been a lot of inefficiency as maintenance and repair work has been largely reactive and not proactive."
The WEG Motor Scan comes with a sensor, which is available for IEC frame sizes from 100 to 450 and is retrofitted to motors with a mounting bolt. The sensor measures the vibration and temperature of electric motors to detect irregularities. It also keeps track of operational hours and captures data on the speed of the motor, stop/start time load, and motor efficiency using Bluetooth.
The analytics of the solution will assist in data processing and in predicting possible failures or problems, which would be based on frequency/spectrum analysis of electric motors.
One of the important advantages is that the captured data is stored in the cloud for ease of use, which can then be accessed through an application on smartphones or tablets, as it is available on iOS and Android, says Labuschagne. It can also be accessed on desktops and laptops through an online Web portal.
Operations with multiple motors will be able to monitor all their motors – if they are equipped with WEG Motor Scan – on the same screen on the WEG Internet of Things platform.
The motor scan would benefit many South African companies in sectors ranging from petrochemicals, food and beverage to companies that require the monitoring of large motor installations, such as those used in heating and refrigeration applications, he concludes.