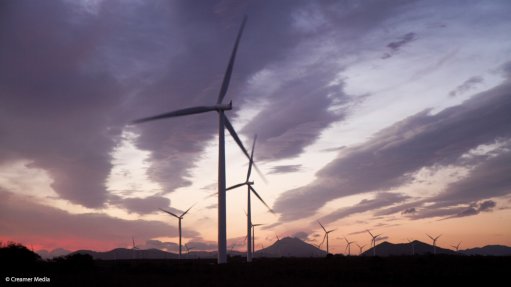 Photo by: Duane Daws
Energy Minister Tina Joemat-Pettersson confirmed on Tuesday that 77 bids were received by the August 18, 2014, submission deadline for the fourth bid window under government's Renewable Energy Independent Power Producer Procurement Programme (REIPPPP) and that, with the evaluation process complete, an announcement of the preferred bidders was "imminent".
Responding to a parliamentary question, Joemat-Pettersson indicated that the implementation, power purchase and direct agreements should be signed within six months from the preferred-bidder announcement date.
The projects, she added, should reach financial close within 300 days of the signing of the agreements.
Through the previous three REIPPPP bid windows more than 60 renewables projects were procured, stimulating associated private investment of around R140-billion.
The projects had a combined capacity of 3 900 MW and 32 projects, with a capacity of just over 1 500 MW, had been completed and connected to the grid.
Meanwhile, the Economic Sectors, Employment and Infrastructure Development Cluster of Ministers also reported that the process of renewing existing cogeneration contracts would be concluded in February and that negotiations for additional cogeneration capacity would be finalised during the first half of the year.
The Ministers also announced that a "fair, transparent, and competitive procurement process to select a strategic partner or partners to undertake the nuclear build programme" would proceed during the coming financial year.
Inter-Governmental Agreements had already been concluded with five countries, including the US, South Korea, Russia, France and China, with vendor-parade workshops having been held with some of these countries.
In a separate written parliamentary reply, Joemat-Pettersson reiterated that the nuclear procurement model had not yet been determined.
"The department is currently engaged in the pre-procurement phase including investigating the various procurement models that will be submitted for approval by Cabinet. The details of the procurement models will be revealed after it has been approved by Cabinet."