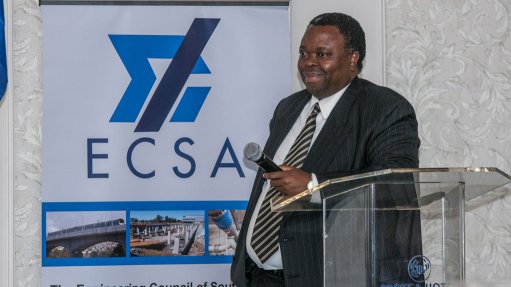 SIPHO MADONSELA Developing and sustaining a relevant, transformed, competent and internationally recognised engineering profession is critical in meeting South Africa's socioeconomic goals
As part of its drive to promote and support the engineering profession at multiple levels, the Engineering Council of South Africa (ECSA) is establishing an intervention programme that will focus on accrediting engineering academies for training candidates for the purposes of registration within a specified discipline.
These academies will be run by entities that can provide work for candidates in accordance with ECSA's Exit Level Outcomes for professional registration.
This is the latest development in ECSA's bid to ensure a steady supply of competent engineering practitioners who will facilitate infrastructure project pipelines in South Africa. In 2010, the council established the Engenius Programme to promote engineering to school learners, with a yearly target set to expose 20 000 learners nationally to the engineering profession and provide practical engineering workshops. This was followed by the establishment of the Sakhimfundo Engineering Education Trust, which will provide funding support for engineering students at university level who demonstrate significant academic potential.
"Developing and sustaining a relevant, transformed, competent and internationally recognised engineering profession is critical in meeting South Africa's socioeconomic goals. It also has a direct bearing on the country's international competitiveness and competency standards," says ECSA CEO Sipho Madonsela.
Although ECSA's database of registered persons, which includes registered candidates, has shown a steady increase in numbers over the past four years, Madonsela notes that South Africa currently has about one engineer for every 3 100 people in the country, whereas Germany has one engineer for every 200 people and Japan, the UK and the US have about one for every 310.
"If the economy of a country relies mostly on its ability to produce engineering practitioners, then South Africa needs to produce ten times more engineers . . . to compete favourably with other countries."
Madonsela highlights that ECSA seeks to advance the development of engineering professionals in South Africa through various strategic channels, including determining the acceptable standards for education and training of engineers, the accreditation of these educational programmes at various universities, and the subsequent registration standards of engineering practitioners.
The council further aims to ensure lifelong learning through conferring continuous professional development credits for professionals who attend courses at ECSA's accredited service providers to keep abreast of the developments in the engineering and other relevant spheres.
ECSA is also a signatory to the Sydney Accord, the Washington Accord and the Dublin Accord, which provide its registered engineering practitioners with mobility to practice in other countries. At a continental level, ECSA is a member of the Federation of African Engineering Organisations, which ensures cohesion and efficacy of the engineering development initiatives within the continent. Through this structure, ECSA is able to further strengthen its position as a credible voice of registered engineering professionals. ECSA is also the current Secretariat of the Southern Africa Federation of Engineering Organisations, which is widely considered to be a reliable source of advice and guidance on issues that relate to engineering and technology.