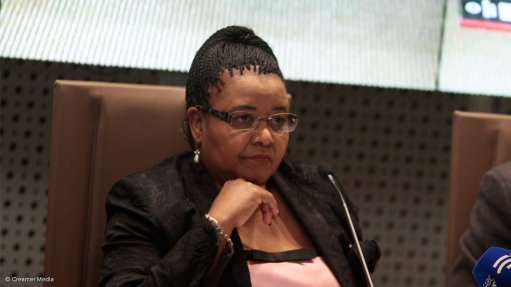 Environmental Affairs Minister Edna Molewa
Photo by: Duane Daws
Two environmental groups on Wednesday condemned Environmental Affairs Minister Edna Molewa's decision to grant several companies, including Eskom, a reprieve from complying with minimum emission standards.
"The decision taken yesterday... is a clear disregard for the people of the already heavily polluted areas of the Highveld and Vaal," the Highveld Environmental Justice Network's Nomcebo Makhubelo said in a joint statement with the Vaal Environmental Justice Alliance.
"We have been opposed to these applications because they meant that industries, in particular Eskom, are ultimately seeking permission to continue destroying the health and lives of ordinary people in the Highveld."
Eskom and other companies applied for temporary exemption from meeting deadlines to cut emissions, in terms of the National Environmental Management Air Quality Act.
"We received 37 applications from a range of facilities, namely Eskom, Sasol, Anglo American Platinum, PPC, and a number of refiners," Molewa said on Tuesday.
"Of these we have processed 35 applications and are still awaiting additional documentation from two applicants."
In terms of the new law, companies could apply for postponements for their plants to meet current air quality standards by April 1, 2015, and stricter standards for "new plants" by April 1, 2020.
Eskom applied for postponements for 16 of its power plants to meet standards in terms of three pollutants -- particulate matter, sulphur dioxide, and oxides of nitrogen.
Makhubelo said the Highveld and Vaal were air quality priority areas and that specific interventions were supposed to bring the ambient air quality in line with air quality standards.
"The postponements are a direct contradiction of this goal," she said.
"Lethabo power station is one of the biggest polluters in the Vaal Triangle... Not only has Eskom been granted postponements, but so has the largest emitter of carbon dioxide in the country, Sasol. The people of the Vaal will continue to suffer from dirty air," Makhubelo said.