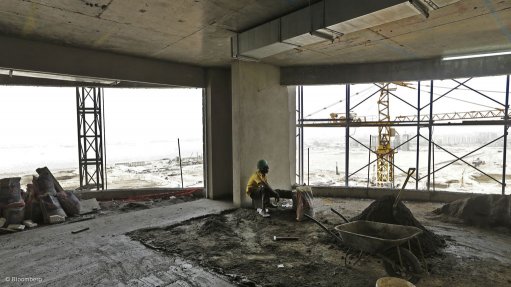 UNDER THE SURFACE Poorly laid concrete floors are problematic for flooring installers, who have to remedy this before laying floor coverings
Photo by: Bloomberg
An element often overlooked by the construction industry contractors when laying screeds for floor surfaces is the importance of laying concrete subfloors to tolerances acceptable for flooring finishers, says interior flooring supplier and installer KBAC Flooring senior contracts manager Ian Duncan.
He tells Engineering News that most sites that use vinyl flooring materials, KBAC has to prepare the subfloors before installation, owing to the thin, malleable nature of the vinyl. If the concrete surface is not prepared to a sufficient smooth, flat standard, the vinyl moulds itself to the concrete subfloor and a bumpy, poorly prepared undulating surface will show through the completed vinyl floor covering.
"The subfloor preparation is especially important because vinyl is used in a number of commercial and residential application, ranging from kitchens to banqueting areas."
When a building is constructed, a slab is cast, which consists of a concrete mix, comprising stones, a sand component and cement, Duncan explains. As a result of this combination of different consistencies, the finished slab is not completely smooth, which requires the company to add an extra element to create the desired smooth finish.
The onus mostly falls on flooring contractors to prepare uneven subfloor, as the construction companies that laid it are reluctant to do so. Duncan notes that this has been a prevalent problem in the building industry for many years.
"There are tolerances builders have to work to, but these are inadequate for flooring companies to work with, are not always followed and, therefore, have to be mitigated from the flooring company's side," he notes.
This necessitates the need for a levelling screed application. KBAC is using developer and manufacturer of concrete-based products iTe's self-levelling screed, which Duncan indicates is the company's current preferred choice. He describes it as a smooth textured cementitious compound, with a good flow rate to facilitate a smooth finish.
Self-Levelling Screed
Prior to 1976
, companies used a far less sophisticated product, which was spread manually onto the floor, followed by grinding and sanding to achieve the smooth finish. Duncan says this process was very labour intensive and time consuming.
However, UK-based construction industry Ardex launched a self-levelling screed in 1976 that contributed much to moving this away from a manual process.
KBAC sent experts to the UK for training on installing and laying this product to apply the knowledge and skills in South Africa. Duncan mentions, however, that these products were expensive at the time, as they were imported, but that there has been a positive proliferation of locally manufactured self-levelling screeds in South Africa, with many companies now offering excellent quality products.
He says such screeds are quicker to apply than the older manual methods, which took days to be completed, as they had to be manually sanded down, which self-levelling screeds do not require.
"The critical aspect of applying a self-levelling screed is to follow the products mixing methodology, whereby a predetermined ratio of the screed and water are combined in a drum (5 ℓ of water to one bag of screed), mixed with an electric mixer and poured on the surface. The screed is then raked out to the required thickness level and rolled flat using a roller. The screed is then left for 24 hours at a set flow rate, settling and drying into a smooth, flat surface," Duncan extolls.
The training departments of manufacturers train installers to use the correct mixing method for self-levelling screeds, which KBAC does as well. "We train each of our teams how to use this product to ensure that they are competent, and this has placed us in good stead when it comes to preparing concrete surfaces for flooring," Duncan acclaims.
He does note two repercussions, however. Firstly, the self-levelling screed obviously adds weight to the building, at least 5 kg to 10 kg per square metre on a particularly poorly laid surface. "This weight can add up and, therefore, needs to be monitored by an engineer to ensure stability."
Secondly, laying self-levelling screed is labour intensive and time consuming, which adds an additional facet to the company's workflow, as this preparation of concrete surfaces has to be conducted before being able to install the floors.
The additional time required is not included in the flooring contractors work programme.
Duncan says KBAC can lay a floor within 24 hours of applying the self-levelling screed.

"Self-levelling screed has made the process of levelling floors so much easier. Previously, it would take three to five days" he concludes.