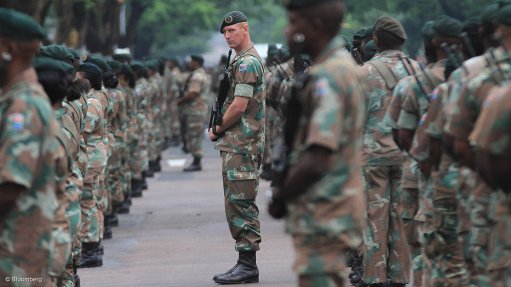 Commitments made over the past 16 years, following the 1998 Defence Review, have resulted in a mismatch between what was expected from the South African National Defence Force (SANDF) and the resources allocated to it, causing a decline in most aspects of the force's work, Minister of Defence and Military Veterans Nosiviwe Mapisa-Nqakula said on Wednesday.
Addressing the media, in Pretoria, she said this "mismatch" had been one of the key findings of the 2014 Defence Review, which was approved by Cabinet last month, adding that this review stated that "the defence budget must meet the financial requirements that arise from the roles and mission sets assigned by government to the defence force".
Mapisa-Nqakula noted that, currently, about 1.1% of South Africa's gross domestic product (GDP) was allocated to the SANDF, which was "inadequate" and "below the international norm of about 2% for a developing country at peace".
She added that, while South Africa was seen as a developing country at peace, its responsibilities on the continent justified that its defence expenditure be set at slightly above 2% of GDP.
Also speaking at the media briefing, Defence Review committee-member Brigadier General John Gibbs pointed out that South Africa's 1.1% GDP allocation was significantly below that of many other African countries, such as Algeria, which allocated 4.6% of its GDP to defence, Angola, which allocated 5.8% and Namibia, which allocated 3.2%.
The 2014 Defence Review identified four "strategic milestones" that would enable the SANDF to "reach and intervene" in pursuit of its continental capabilities, its leadership profile and national interests as well as to deepen democracy on the continent and unlock economic development by 2028, Gibbs said.
The first milestone, focusing on "arresting the decline", was expected to be reached by 2015, the second, which aimed to reorganise and rebalance the defence force, by 2018 and the third, involving the creation of a sustainable defence force, by 2023.
This would put the SANDF on track to reach its end-state milestone of an enhanced capability to respond to "emerging threats" by 2028.
By this date, the review also envisaged the SANDF to have sustainable funding in the order of R88-billion (in 2014/15 rand value), which would equate to 2.4% of GDP and 8.2% of government expenditure.
The Defence Review also proposed a fifth, contingency milestone, which when reached would enable the SANDF to defend the country against an imminent or dire threat.
When asked whether government would be willing to allocate the required funds to defence, Mapisa-Nqakula said "government does not have a choice [at this point in time]", adding that she believed government realised it was faced with two choices – either let the defence force decline, or restore and reorganise it.
"Government says it will make sure it does not decline [and] is already committing itself to supporting the defence force," she said.
The Minister added that she believed there would be an appreciation of the urgency of reviving the SANDF when funds were allocated, stating that in allocating funds National Treasury would have to take the 2014 Defence Review into consideration.
"Implementation of the Defence Review recommendations, coupled to the required funding, will ensure a defence capability that will give South Africa the gravitas it needs to change the security landscape and open the doors to significant economic benefit for the continent and itself," Gibbs added.
RESEARCH AND DEVELOPMENT
Meanwhile, the 2014 Defence Review also emphasised the role of research and development (R&D) in ensuring that South Africa's armed forces were constituted to be a "smart" armed force that worked efficiently and effectively using technology as a force multiplier, recognising that R&D would be needed to achieve this, Secretary of Defence Dr Sam Gulube said.
"We recognise the role that we as the Department of Defence (DoD) have to play in technology advancement," he added, noting that the DoD already invested about R650-million a year in R&D.
Gulube also pointed out that the review suggested the appointment of a defence scientist.
This defence scientist would have a broad remit over defence research and be specifically responsible for the definition, establishment and maintenance of defence R&D requirements. He or she would be expected to have a tight focus on these concerns to avoid duplication of research efforts, capacities and capabilities, and thereby avoid wasting resources.
The defence scientist would also determine what technology areas would be prioritised.
Further, Mapisa-Nqakula pointed out that the 2014 Defence Review now had to be approved by Parliament after which it could move into the policy formulation, legislation and implementation phase.