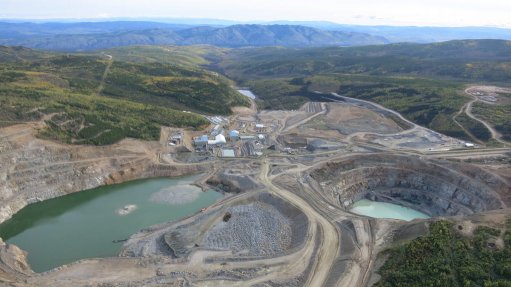 The Minto mine.
LSE-listed Pembridge said on Thursday that it would renegotiate the acquisition terms for the Minto openpit mine and that Capstone Mining would implement a phased care-and-maintenance programme at the Canada-based mine until the acquisition can be closed.
Pembridge stated that market conditions had made it increasingly difficult to close the equity financing element of the Minto acquisition on terms that would be favourable to all concerned parties.
As a consequence, Capstone would halt underground production at Minto and would manage the site while Pembridge prepared a revised offer for the mine.
About 200 employees and contractors will be affected by the closure. Minto will retain a core team of employees to oversee the site and meet environmental monitoring and legal obligations during the care and maintenance phase, which will cost $5-million in each of 2018 and 2019, and thereafter $4-million a year.
"Pembridge team has worked tirelessly to complete the Minto acquisition; however, the equity and commodity markets have been extremely challenging," Pembridge CEO David Linsley said.
"Commitments for the significant majority of the financing are still in place, and we are in ongoing discussions with a number of parties to complete the final elements of a revised offer for Minto. Capstone and our offtake partners have been very supportive of the decision to restructure the terms of the Minto acquisition. It is, therefore, anticipated that an amended agreement will be reached in the best interests of both Pembridge, Capstone and their respective shareholders in the near future," he added.
In terms of the original offer, announced in February, Pembridge would have bought Minto Explorations for $37.5-million in cash and common shares representing 9.9% of the issued and outstanding shares of the company.
Minto, which has been in continuous production since 2007, last year produced 16 332 t of copper, 170 809 oz of silver and 25 205 oz of gold. Capstone has forecast production of 19 000 t of copper at a C1 cash cost of $2.35/lb to $2.45/lb and an all-in sustaining cost of $2.55/lb to $2.65/lb for 2018.
Capstone's share price fell 8.45% on Thursday on the TSX.