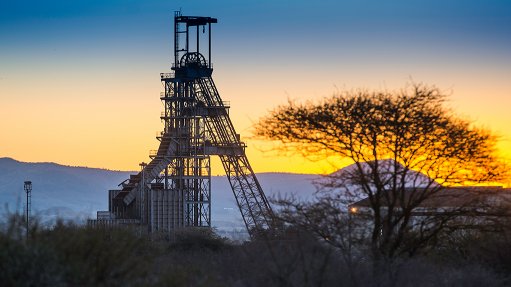 Mining operations in South Africa are to be "scaled down significantly" during the 21-day lockdown period, particularly labour-intensive, deep-level mining activities, Mineral Resources and Energy Minister Gwede Mantashe reported on March 25.
However, mines supplying coal to Eskom would remain in operation, albeit at reduced production rates, while smelters that cannot be switched off entirely for technical or economic reasons would also remain operational at reduced output levels.
Likewise, essential services supporting the sector, including security and related infrastructure, maintenance, water pumping, refrigeration and ventilation would continue.
Exports of mineral products, meanwhile, would be evaluated on a case-by-case basis by the National Command Council.
"Production in the gold, chrome, manganese and other sectors will be scaled down; while the processing of surface material in the platinum-group-metals sector will continue for the production of – among others – medical products."
Speaking following a meeting with the Minerals Council South Africa, held to consolidate Covid-19 response plans in the sector, Mantashe said that the actions were being taken to "safeguard the lives of people, while ensuring that the limited economic activity which will be undertaken during this period is supported".
The Minister said that services being supplied by mining companies to communities, such as the supply of water, would continue.
In addition, he reported that the Minerals Council had committed to make its health infrastructure, both facilities and staff, available to support government's Covid-19 response efforts during the lockdown.
Mantashe said there was no intention for mineworkers to be sent home during the period, as the intention of the lockdown was to minimise the movement of people to limit the spread of the virus.
Government had requested mining companies to continue to provide food and medical services to miners living in hostels. He stressed, however, that most miners now lived in communities surrounding the mines rather than in hostels.
Consideration would also be given to converting certain mine hostels for use as quarantine facilities.
The Minerals Council confirmed its discussions with Mantashe on the implementation of the lock-down in the mining industry and agreed that a significant scaling down of mining activities was envisaged.
CEO Roger Baxter said in a statement that companies could apply to the Minister on a case-by-case basis for limited operations.
"Minister Mantashe acknowledged the importance of maintaining value-adding mining infrastructure, especially refineries and smelters, which cannot easily be switched on and off. These operations will continue to operate at reduced levels, using stockpiled ores or lower levels of mining production, while ensuring that due care is taken with preventative and monitoring measures to protect those staff."
Baxter also stressed that mining operations supplying Eskom would continue, albeit at curtailed rates, to ensure energy security. Coal supplied to enable the manufacture of liquid fuels was also considered an essential service, he added.
"The industry is fully committed to working with government to reach our common goal of preventing infection by Covid-19, and to minimise its spread. At the same time, we will seek to ensure that mining operations can start up in reasonable shape once the lockdown is over," Baxter concluded.