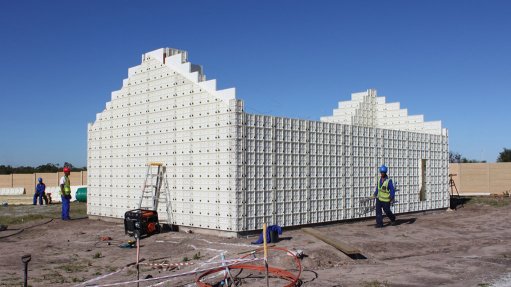 MORE TO OFFER Moladi's green building technology is up to six to eight times stronger than traditional brick and cement structures
Housing and building construction systems company Moladi believes mining companies, which are currently dealing with the commodities downturn, should invest in longer-term building solutions for the purpose of on-site accommodation, as opposed to more traditional prefabricated modular buildings.
Thus, the company is targeting the mining industry for the provision of long-term accommodation, says Moladi founder and CEO Hennie Botes.
The Port Elizabeth-based company's buildings offer mines investment in permanent structures, which can be used for a range of applications, from accommodation to storage, that are secure, unlike temporary modular solutions.
Further, the company emphasises that its focus on providing a housing solution that is a quicker and a cheaper method of producing better-quality structures that are "far more durable and require less maintenance" will benefit mines and their workers.
Moladi uses mine by-products such as mine slag and crusher dust, which act as a stable level filler, as bulk building material to construct its long-term housing solution, reducing the cost of construction.
He adds that the company can construct buildings that are more durable than prefabricated and traditional brick and mortar building solutions.
Moladi's green building method involves the use of removable, reusable, recyclable and lightweight plastic formwork moulds that are filled with mortar consisting of sand and cement.

The walls of Moladi's buildings have a strength of 16 megapascal (MPa), compared with traditional brick walls that start at 2 MPa. "Our walls are up to six to eight times stronger than brick and cement," adds Botes.
The formwork moulds can be reused up to 50 times, which makes the technology cost effective, owing to its repetitive application.
The building method is approved by management systems, business improvement and regulatory approval information and standards provider the South African Bureau of Standards.
To ensure the longevity of its structures, Moladi employs a quality process that uses different engineers to certify the foundation process, the reinforcing and the quality of the walls, the top structure and roof.
Botes highlights that the company constructed the first building, which is still standing, using the formwork building method in 1987.
"Moladi's construction method is considered to be green, as it does not use a lot of water, compared with traditional building methods, culminating in a significant water saving during construction. "
Bricks also require baking, during which carbon dioxide emissions are released."
Botes highlights the company's speed in completing and delivering permanent housing solutions. Casting the foundation is completed in one day and requires about seven days to cure. Once the foundation has cured, the framework of the structure is crafted, resulting in the first building being completed after 14 days.
Thereafter, one building a day can be constructed in the same amount of time that it takes to erect prefabricated modular buildings, largely owing to the plastic formwork system having been crafted already, Botes tells Mining Weekly.
"The speed of delivery means mining companies can benefit from having buildings that are of the same solidity as brick and cement in significantly less time."
Environment Friendly
Owing to the structural strength of Moladi's buildings, energy-savings technologies, such as solar photovoltaic panels, can be safely installed to help mining operations reduce energy costs.
"Wastewater management is also achieved, as the structures have the capacity to accommodate tanks that can collect rainwater for reuse," explains Botes.
From a sustainability and skills empowerment perspective, Moladi employs an unskilled workforce to empower people with a new set of building skills. Once they have completed a construction project they can become subcontractors and engage in other projects using Moladi's technology.
Botes suggests that this could be a way by which mining companies increase their involvement in building on-site facilities, instead of following the standard procedure of only paying for services rendered.