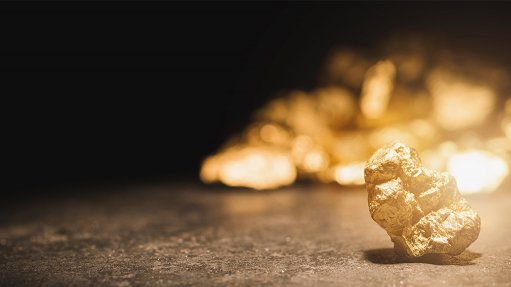 GOLDEN OPPORTUNITY Wood has received requests from Ghana's gold mines, owing to the high gold price
Few of the capital projects planned for the development of new African mines will go ahead this year because of the Covid-19 pandemic and the resultant uncertainty, says project management, engineering and consulting company Wood's mining and minerals business development manager for Europe, the Middle East and Africa, Kuda Maramba.
However, he notes a serious uptick in sustaining capital projects in Africa, as companies want to extend the operating life of existing assets instead of investing in new construction projects.
"There are many requests regarding brownfield optimisation, which include improving circuits and mining plans, with most coming from established mining jurisdictions, such as South Africa, Ghana and the Democratic Republic of Congo (DRC)."
Maramba notes requests from the DRC's copper/cobalt mines and Ghana's gold mines, owing to the high gold price.
"Some analysts predict that the gold price will rise to $3 000/oz, but that is a bit far-fetched. My optimistic forecast is an increase to about $2 200/oz from the current price of $1 750/oz."
Comparatively, there are fewer requests from Zambia, owing to political turmoil, says Maramba.
"This has given many operators in Zambia cold feet."
He expects mining companies to remain in survival mode for the remainder of the year, and new mining projects to resume in the first or second quarter of next year.
However, Maramba notes that Chinese companies active in the African mining market are seemingly opting to award the design of projects to engineering companies from their home country to keep capital in China.
"In the past, Chinese companies were solely used for the execution of these projects. There is less work for the Western engineering firms, as we are not allowed to design or execute projects now."
Disruptive Force
African governments have been actively educating people on how to deal with the pandemic, but there have been no incentives to aid the African mining sector, says Maramba.
The industry is in a slump, with output declining, owing to the many restrictions put in place to curb the spread of Covid-19.
However, as of June 1, South Africa permitted all mines to operate at 100% capacity under Level 3 of lockdown, but as more mineworkers returned to work, infection rates have increased.
Maramba says further infections are a reality and will disrupt production when mineworkers need to be tested and quarantined.
To ensure limited disruptions to mining projects undertaken by Wood, the company has enforced remote working globally, with the exception of those employees working on site.
"When the lockdown was initiated globally, we were already accustomed to working remotely, with staff operating from isolated oil rigs, for example. Therefore, our systems were tailored for working amid the pandemic and we haven't experienced disruptions with people working from home.
"In fact, we have found that people are more productive and are discussing plans to transition to a more flexible working model," states Maramba, adding that Wood can leverage the experience of its global workforce when working on a project.
Where employees are working on site, Wood is applying enhanced safety protocols and the required health and safety measures imposed by government.
At the start of the pandemic, many mineworkers employed by mining operations across Africa were evacuated and they are still at home, says Maramba.
He cites a West African mine serviced by Wood, where many workers, bar a skeleton staff to undertake care and maintenance, were taken off site.
"Because all our design and engineering teams work remotely, we could continue to add value and consult with this mine on how to improve a specific circuit for which it had struggled to find a solution. We have managed to model the circuit and shown the mine how to build it remotely. Subsequently, when the mine finally reopens, it will implement all our suggestions."
While South Africa is allowing more people to go back to work under Level 3, this is allowed only when employees are returning on a rotational basis.
Therefore, Maramba expects a more online-based workforce to be prevalent in future.
"We need to realise that Covid-19 will be with us for the foreseeable future, and we need to adapt going forward," he concludes.