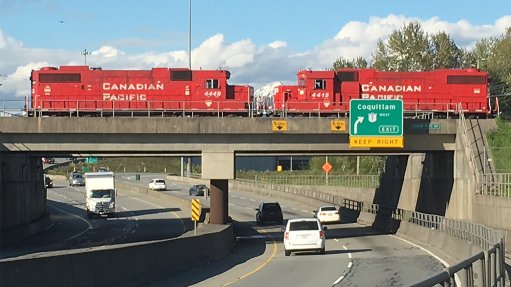 Photo by: Henry Lazenby
VANCOUVER (miningweekly.com) – A one-day strike by Canadian Pacific (CP) Railway engineers and conductors is not expected to have a lasting impact on Canada's mining operations, the Mining Association of Canada (MAC) said on Wednesday.
Members of Teamsters Canada Rail Conference (TCRC) downed tools on Tuesday night following what it believes was a best effort approach to reach a negotiated settlement.
TSX- and NYSE-listed Canadian Pacific Railway announced on Wednesday that it has reached a tentative four-year agreement with CP conductors and locomotive engineers and a five-year agreement with the Kootenay Valley Railway conductors and locomotive engineers, ending both strikes.
Details of the agreement will be presented to the TCRC membership for ratification, the TCRC, which represents about 3 000 engineers and conductors, said in a statement.
Full operations are expected to resume on Thursday morning, the union said.
"We believe this is a fair contract that our members can feel good about ratifying. I am personally very satisfied with what we have negotiated," TCRC president Doug Finnson said. "We have had the discussion that needed to take place. This is a solid step in re-establishing a positive business relationship and moving forward."
The mining association expressed relief at the news of the tentative four-year agreement and commended the work of federal negotiators, singling out the contribution from the Employment, Workforce Development and Labour Minister Patricia Hajdu. Both the union and CP also acknowledged the minister's intervention.
"The impacts of a one-day strike will be manageable for Canada's mining sector and intervention by the federal government in support of a quick resolution avoids harm to Canada's reputation as a reliable exporter," MAC president and CEO Pierre Gratton said in a statement.
A protracted labour dispute would have led to painful rail service disruptions for Canadian mining companies and damaged Canada's reputation as a reliable trading partner, and the national economy, the association noted.
According to MAC's latest 'Facts & Figures' report, the Canadian mining industry accounts for over 50% of the freight revenues of Canada's rail system yearly. The industry is also a key economic driver for the country, having contributed C$58-billion to Canada's gross domestic product, employed directly and indirectly 596 000 workers, and accounted for 19%, or more than C$88-billion, of the total overall value of Canada's exports.
Soon after announcing the tentative accord, CP's TSX-quoted equity rose to a new record high, gaining 2.8% to C$247.65 apiece in the afternoon session, before settling somewhat lower at C$245.39 a share at the closing bell.