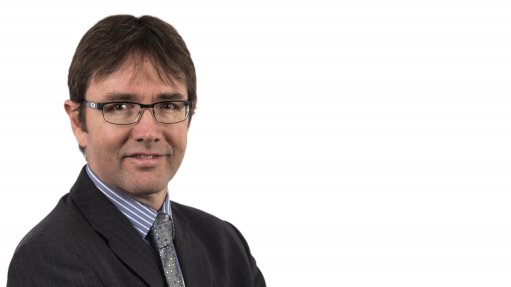 Minerals Council CEO Roger Baxter
The Minerals Council South Africa is encouraging the uptake of distributed generation (also called self-generation) of power in South Africa, especially considering that South Africa is facing an electricity supply gap.
The impact of this is "huge", Minerals Council CEO Roger Baxter told delegates participating in the virtual Energy & Mines Africa conference.
He pointed out that about 11 GW of coal-fired power generation would be phased out over the next decade.
Generating capacity will take a "huge knock" when this happens and the capacity is already constrained, which had resulted in capacity shortages, impacting all large industrial users and customers.
At any particular stage, up until 2025, South Africa should expect to have shortages of about 5 GW of capacity in the system, which Baxter lamented would have "quite big impacts on large industrial customers", including the country's mines.
In the Mineral Council's view, it is critical to bring on stream a large amount of new private sector energy generation and bring on a lot more distributed generation, which Baxter said was "not there to compete with power utility Eskom but rather to supplement the energy availability on the network".
However, in the meantime, Baxter suggested that Eskom's operating and capital structure needs to be addressed, and that the unbundling of the entity needs to be accelerated in order to enable the expansion of the independent power producers programme and allow for improved operational performance.
Additionally, Baxter suggested that the short-term negotiated pricing and reform for the overall tariff landscape needed to be enabled, as this would provide immediate relief to eligible businesses, while building a competitive industry tariff landscape.
Renewables deployment under Bid Window 5 of the Renewable Energy Independent Power Producer Procurement Programme would also need to be fast-tracked, Baxter said.
Further, policy certainty and regulatory clarity would need to be provided in terms of distributed generation, which Baxter said would enable the private sector and municipalities to ensure the reliable and affordably supply of energy.
The gas-to-power (G2P) targets would also need to be updated in line with demand projections, as this would create certainty on the expected gas demand from the power sector to drive investments in gas.
Overall, Baxter suggested that should the above be addressed, between 64 000 and 82 000 jobs will be protected, while up to another 100 000 jobs could be created. This would also generate a capital expenditure deployment of R157-billion, something which the South African economy is in dire need of.
However, these plans were not without their challenges, he lamented, highlighting that, besides others, there was no documented process for the licensing of generation plants and there was also no distinction between the size of plants.
National and local government processes for distributed generation would need to be streamlined and simplified, Baxter added, noting that a documented process from the National Energy Regulator of South Africa (Nersa) was still outstanding.
Further, the economic size of a plant and misalignment between the life of mine and the life of the electricity generation plant also needed to be identified, as economically viable generation plants were often larger than a mines' electricity needs.
"Without the ability to sell excess electricity to the grid, the plants remains uneconomical and will not be built. The selling of self-generated electricity to other parties should be clarified," Baxter noted, adding that there were also other concerns relating to distributed generation. The council suggested that Nersa "should assist the industry" in this regard to expedite the resolution of bottlenecks.
Further, the Department of Mineral Resources and Energy (DMRE) needs to facilitate the resolution of the approval of environmental-impact assessment amendment applications, and water-use licenses lodged with the departments of Forestry, Fisheries and the Environment and Water and Sanitation should be expedited, Baxter said.
"There are some critical solutions available to enable additional self-generation, such as establishing a 'one stop shop' mechanism coordinated by the DMRE to accelerate the licensing of private sector generation for own use."
Additionally, the Minerals Council has reiterated its opinion that the licensing-exemption cap for distributed generation should be increased to 50 MW.
The council, and Baxter, further suggested the introduction of a 'licensing lite' option, as current small distributed energy plants above 1 MW undergo the same licensing regime as large coal-fired power stations.
"Economies of scale should be taken into consideration, as the economies of scale of each plant will enable greater benefits (financial and non-financial) than would otherwise be possible, and other potential constraints will also need to be addressed, as these involve government authorities that could cause further delays," Baxter noted.
These include the need to conclude surface lease agreements that involve the Department of Rural Development and Land Reform, environmental authorisations under the National Environmental Management Act (as these can take up to 300 days to obtain) and permitting obligations such as water-use licenses, sub-divisioning of agricultural land, as well as address the lack of processes for approval of captive power producer agreements, which would enable the wheeling and allowing of IPPs to upgrade network infrastructure.