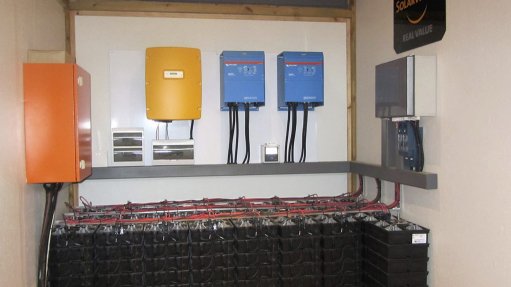 WORTH ITS SALT The saltwater batteries have been sized to comfortably support the lodge's loads during overcast conditions
American battery manufacturer Aquion Energy last month announced the completion of a newly installed off-grid microgrid at a nature lodge resort, in the Kruger National Park, in South Africa, which consists of a 55 kWh Aquion Aspen battery bank, paired with a 10 kW solar array.
Aquion, which manufactures Aspen saltwater batteries and energy storage systems, notes that the solar array and batteries provide full power for the camp, which consists of four luxury tents, a central lounge, swimming pool, and a water pressure pump for drinking water.
The company notes that the batteries have been sized to comfortably support the site's loads during overcast conditions before receiving assistance from a backup diesel generator. The microgrid operates silently, enabling guests to peacefully enjoy the wildlife and beautiful landscape.
The system was designed, installed and integrated by South African photovoltaic solutions provider Solarsun Solutions, with support from Cape Town-based SolarWorld Africa – a leading South African solar energy services company.
Aquion's saltwater battery chemistry is called Aqueous Hybrid Ion (AHI). The chemistry uses a polyionic system that has sodium, lithium and hydrogen ions. The cathode is manganese oxide, while the anode is a carbon titanium phosphate composite, and the saltwater electrolyte has a neutral pH Alkali-ion.
The batteries are sealed electrochemicals energy storage systems that are safe, efficient, and low on maintenance. They are also nontoxic, nonflammable, and nonexplosive. Aquion states that "AHI chemistry is inherently safe and not capable of thermal runaway, and the batteries are also touch-safe."
Since Aquion batteries do not comprise of toxic chemicals or heavy metals, they are generally some of the easiest and safest batteries to recycle. The polypropylene plastic housing and the metal hard goods are recycled and the active materials can be disposed of as regular refuse.
The batteries are designed to be inverter- and charger-agnostic, and are compatible with most of the leading inverters and charge controllers on the market, when using recommended settings. Aquion's batteries follow a typical three-stage charge profile, which is similar to lead-acid batteries, and the battery modules can be connected in series up to 1 000 Vdc. However, high voltage systems require the use of Aquion's battery monitoring system.
The company reports that the best applications for its batteries are stationary long-duration storage applications, defined as four- to 20-plus-hour charge and discharge cycles. An example would include a basic microgrid in which the batteries charge from solar panels during sunlight hours for eight hours, and then discharge to supply energy overnight for 16 hours.
"In terms of long duration applications, our batteries can be used for residential and commercial solar, green architecture, off-grid applications, microgrids, telecom and utility services."
Aquion notes that off-grid lodging facilities like those at the Kruger National Park typically use diesel generators as their primary power source, resulting in air and noise pollution. "A solar and energy storage microgrid enables the switch to a quiet and clean energy system. Aquion's Aspen batteries offer clean, sustainable, and long-lasting energy storage that enables remote resorts to maximise their use of renewables and minimise their reliance on diesel generators."
The energy storage system at the Kruger National Park is Aquion's second installation in Africa, the first having been completed at the Loisaba wildlife conservancy, in Kenya, in July last year.
Aquion's high-performance battery systems provide flexible, modular energy storage that enables broad adoption of renewable-energy technologies such as wind and solar, reduced reliance on fossil fuels, as well as optimisation of existing grid-tied generation assets.
The company will be exhibiting at the Power & Electricity World Africa 2017 event, held at the Sandton Convention Centre on March 28 and 29.