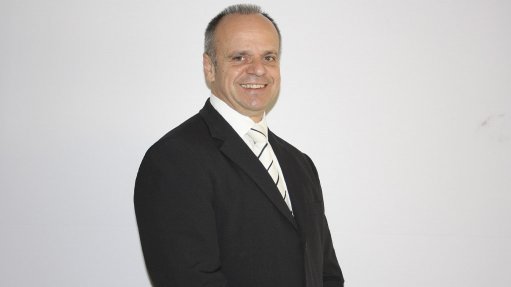 Seifsa CEO Lucio Trentini
The Steel and Engineering Industries Federation of Southern Africa (Seifsa) reports that its affiliated employer associations – the National Employers Association of South Africa and the South African Engineers and Founders Association – have agreed to extend the deadline for concluding wage increase negotiations to September 14.
The organisation states that this is being done in a serious endeavour to stave off the possibility of industry industrial action.
A bargaining council dispute subcommittee meeting was held between the employer associations and trade unions – facilitated by the Council for Conciliation, Mediation and Arbitration – on September 2.
Seifsa says negotiations are taking place under the auspices of the bargaining council's constitution, which prescribes that, once a dispute has been declared, and a process has been agreed on how best to deal with the deadlock within 30 days, any party to the dispute may call for the issuing of a certificate of non-resolution.
As such, Seifsa CEO Lucio Trentini points out that, because the National Union of Metalworkers South Africa (Numsa) had declared a dispute against all the employer organisations on July 29, and Seifsa – on behalf of the associations – had countered with its dispute against Numsa on August 2, the certificate of non-resolution could have been called for as early as September 2.
The September 2 session, however, ended with the parties agreeing that the life of the subcommittee be extended to September 14, at which point the parties will report that an agreement has been reached or that the parties are unable to break the deadlock.
Trentini states that Seifsa's affiliated associations settlement offer is based on four inter-related pillars, namely duration, wage increases and a wage model, extension, and a special phase-in dispensation aimed at encouraging greater support for centralised collective bargaining.
The latter, Trentini says, is now, more than ever, needed to ensure the survival, recovery, growth and sustainability of the industry in an environment of industrial peace, stability and certainty.
Seifsa's affiliated associations have offered employees a 4.4% increase this year, a consumer price index (CPI) plus 0.5% increase in 2022 and a CPI plus 1% increase in 2023.
This includes a minimum and maximum increase of 3% and 6% in the second and third years, guaranteeing workers not less than a 3% or 6% increment, plus a cost of living adjustment of 0.5% and 1% in the second and third years, respectively.
Going forward, Trentini says, negotiations will continue "in earnest" between all the parties, with "every reasonable effort" being made to avoid a breakdown in negotiations which will open the way for an industry strike and lock-out action.
"Notwithstanding our commitment to working around the clock to avoid industrial action, members are nevertheless urged to put in place measures, including but not limited to making provisions for stock, material and enhanced security to be properly prepared should negotiations between now and the September 14 break down," he states.
He assures Seifsa members that the organisation will immediately advise the membership the moment it becomes aware of imminent industrial action.