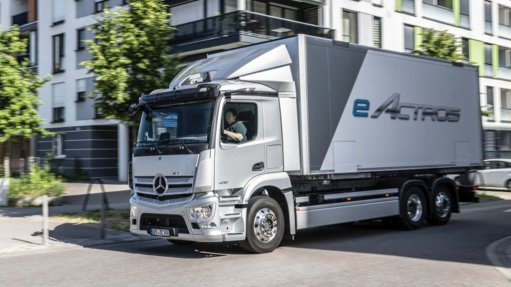 Mercedes-Benz Trucks will start series production of its first battery-electric truck in Germany in October.
The electric Actros (eActros) is destined for urban heavy-duty distribution haulage markets.
A second electric truck (etruck), the eEconic, for waste collection, is set for series production start later this year.
"We have to acknowledge that transport is a part of the problem when it comes to climate change," says Mercedes-Benz Trucks head Karin Rådström.
"At the same time, we can and we will be part of the solution. We start with our eActros that has covered more than half-a-million kilometres on public roads."
The German truck maker first presented the concept eActros in 2016.
Practical testing of ten prototypes, in cooperation with customers in Germany and other European countries, began in 2018.
"Everything that we learned from this innovation fleet is now being incorporated in series production," says Mercedes-Benz Trucks marketing, sales and services head Andreas von Wallfeld.
"Compared with the prototypes, several features such as range, drive power and safety, have been considerably improved in the series-production model."
Depending on the version, the eActros draws its power from three or four battery packs, each with a capacity of around 105 kWh.
Thanks to a maximum capacity of 420 kWh, a range of up to 400 km is possible, says Von Wallfeld.
When connected to a regular 400A DC charging station, the three battery packs need a little longer than an hour to charge from 20% to 80%.
"Thus, the eActros is perfectly equipped for its daily operations in distribution transport with regard to availability and performance," believes Von Wallfeld.
Rådström adds that electric trucks will help to reduce pollution levels in cities, while it is also very quiet – at 60 dB the eActros' driving sounds are equivalent to two people having a conversation.
In the initial phases of the rollout of the series-production eActros, the truck will be available in Germany, Austria, Switzerland, Italy, Spain, France, the Netherlands, Belgium, the UK, Denmark, Norway and Sweden.
Further markets are set to follow.
Mercedes-Benz Trucks South Africa (MBTSA) head Maretha Gerber says that the exact introduction date of the eActros for the South African market has not yet been confirmed.
"As it currently stands, MBTSA anticipates to have the first e-vehicles by 2024/25. Further information will be shared as soon as we have a firm timeline."
eConsulting Services
Mercedes-Benz Trucks has introduced econsultants to help fleet owners make the transition from conventional to new-energy vehicles.
These econsultants will be on standby to help truck drivers and fleet owners with any questions they may have about electric trucks, such as how to charge the vehicle as well as the most suitable routes for an electric truck.
Econsultants will be available in every market where the eActros will be launched.
Pricing, Residual Values
The price of the eActros is three times that of a conventional diesel-powered Actros, says Von Wallfeld.
However, he expects price parity in around 2025, but notes that this is dependent on the energy prices and government incentives prevalent in each market.
On a total-cost-of-ownership level, there "is already almost parity", but this is again dependent on the energy prices and government incentives available in the various markets.
Von Wallfeld notes, however, that cost becomes less of an issue when considering increasingly stringent emission regulations, such as the introduction of emission-free zones in The Netherlands in 2025.
He adds that Mercedes-Benz Trucks is "not worried" about the residual value of current diesel trucks, "as we offer operational leases where customers can lease trucks for five or six years", with the residual value guaranteed at the end of the lease.
"Residual values play an important role in our industry, and of course, market predictability is important for residual values, and in this new field it is very challenging.
"But for us it is very important to offer an operational lease so that our customers can go out risk-free."