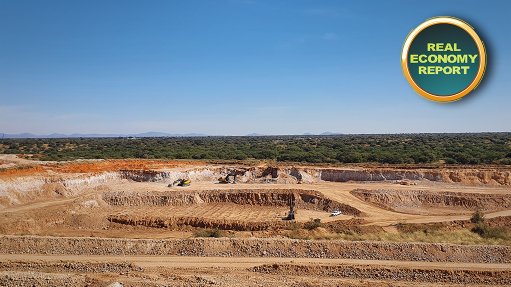 Menar launches first manganese mining operation as part of diversification
From Creamer Media in Johannesburg, this is the Real Economy Report.
Sashnee Moodley:
Mining investment firm Menar has officially launched its first-to-portfolio manganese mine, called East Manganese, based in Hotazel in the Northern Cape, which is expected to produce its first ore in July. Marleny Arnoldi visited the mine.
Marleny Arnoldi:
While the first ore from East Manganese will be produced in July, the company will ramp up to nameplate capacity of 30 000 t run-of-mine in August.
The mine's 900 000 t reserve will be mined over a two-year mine life, from a 14 ha openput operation. The mine will produce mostly lumpy manganese and some fine material for export.
Menar MD Vuslat Bayoğlu sheds more light on the company's target markets.
Menar MD Vuslat Bayoğlu:
Marleny Arnoldi:
Menar decided to diversify the group's commodity portfolio, in keeping with aspirations to become a leading South African diversified mining company, as well as to take advantage of the high green mineral and metal demand, as the world moves to decarbonise its economies.
The company remains nonetheless confident about its interests in thermal coal and anthracite.
Menar chairperson Mpumelelo Mkhabela tells us more about the company strategy.
Menar chairperson Mpumelelo Mkhabela:
Marleny Arnoldi:
The company is looking to invest in more manganese assets and discussions are underway in this regard, while it continues to develop more collieries.
East Manganese is serving as a stepping stone for the company to get acquainted with the commodity and build expertise in the manganese mining space.
Mkhabela elaborates.
Menar chairperson Mpumelelo Mkhabela:
Sashnee Moodley:
That's Creamer Media's Real Economy Report. Join us again next week for more news and insight into South Africa's real economy. Don't forget to listen to the audio version of our Engineering News daily email newsletter.