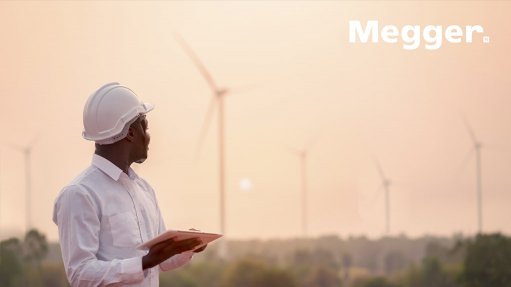 With South Africa being one of four regional economic "hotspots" in Africa, testing and measurement equipment manufacturer Megger has chosen the country to be the host of its first African office, which it believes signals "a strong commitment to the African continent".
This, says Megger Africa sales director Daniel Salathé, is largely owing to the company viewing the continent as still having "huge potential", even after two decades of operating on its shores.
"We want to show a bigger presence on the African continent, and South Africa was chosen because our external consultancy company identified it as one of four regional clusters on the continent, alongside Central, East and West Africa," Salathé explains.
The 1 500-employee-strong company also recently appointed its third South Africa-based employee, namely senior applications engineer David Bavin, which Salathé says further supports the company's decision.
The office in Durban, South Africa, will, for the time being, serve the Southern African countries, as well as the Central and East African market.
Megger is, however, planning another expansion for the continent in 2023, which Salathé says will service the West Africa region.
These offices, he adds, are part of Megger's objective to explore growth possibilities and opportunities.
"We are of the opinion that we have not really been able to cover all the continent's potential and have therefore been laying out the strategy to be more present in the African continent and to increase the visibility of Megger, as a company, but also to increase the visibility of our products throughout the continent," Salathé tells Engineering News & Mining Weekly.
This, he further adds, aids in the company's vision to improve efficiency and power systems. This is critical for Africa, as not all regions are equally electrified or even have a stable electricity supply.
"Taking South Africa as an example - while there may be a high electrification percentage, the country struggles with load-shedding, which indicates that its electrification percentage can still be increased," Salathé notes, adding that Megger, through its testing measurement equipment for the high voltage, medium voltage and low voltage industry, can "improve electrification with a reliable network, thereby increasing the availability of electricity for customers".
In this regard, Salathé explains that Megger provides electrical solutions for application needs, which can improve reliability from the network via preventive maintenance.
"Preventive maintenance means we do specific tests, such as a partial discharge tests, and by doing these tests, we can find the weak spots in a circuit before the circuit collapses."
Ultimately, this means that if the weak spot can be found before becoming an issue, a maintenance team can repair the weak spot according to the next scheduled maintenance session and prevent that failure from ever happening – meaning that the downtime cost of a unit is greatly reduced.
FUTURE PLANS
Megger, while only opening an African office now, is not new to the African continent, and has, for at least the last 20 years, been involved in the continent's electrical journey from large power generation projects, to smaller projects such as power outlets in a home.
This, Bavin states, is further evidenced by the company's 230-year history in the industry, alongside its involvement in, for example, cable fault detection.
"The technology is well known to South Africa, and has been used for a long time," he adds.
However, a few gaps in the company's service delivery portfolio remain, which is why Salathé emphasises that Megger is "continuously acquiring new businesses", technologies of which are aimed at closing the few gaps the company feels it has in its overall strategy.
"Our business plan foresees that we make a number of acquisitions a year to close these gaps in our portfolio," he states.
While unable to comment on what acquisitions are planned for the foreseeable future, Salathé did mention that a few are on the cards and that announcements will be made when possible.
"As a company, you have to constantly evolve and we have had to scope opportunities in order to remain a relevant supplier to the industry," he concludes.