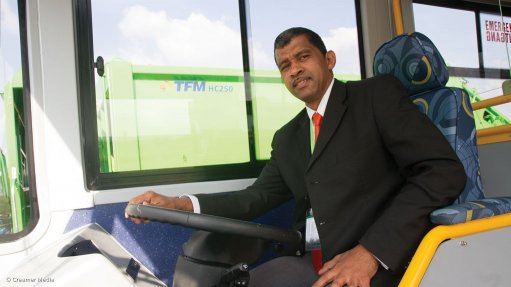 ANTHONY KING Each bus has eight carbon fibre compressed natural gas tanks, which will allow for about 1 200 m3 of gas
Photo by: Duane Daws
Unitrans subsidiary Megabus has procured ten 280 hp, 100% compressed natural gas (CNG) Scania buses, which it will trial for the next five years at its Free State operations.
The official handover of the buses, which feature the first Euro 6 bus engines in South Africa, was concluded in conjunction with Scania's first South African Sustainability Seminar in Kempton Park, Gauteng, last month.
The ten buses will operate from the Megabus depot in the town of Virginia. The buses, which service the mining industry, will undergo testing in terms of downtime, fuel consumption and maintenance costs for a comparison with their diesel equivalents.
The gas for the buses will be sourced from a Free State natural gas resource, currently being developed by AltX-listed Renergen subsidiary Tetra 4. The CNG compression station will process about 210 000 standard cubic feet, or about 210 GJ, of natural gas a day, which will then be stored in 40-foot tube containers known as skids.
These will be transported to the Megabus depot and connected to a dispensing station to dispense the gas from the cylinders to the bus CNG tanks.
The buses were assembled at Busmark in Randfontein, Gauteng. Each bus has eight carbon-fibre CNG tanks, which will allow for about 1 200 m3 of gas, and a range of about 400 km to 500 km a day, Scania South Africa alternative fuels key account manager Anthony King noted at the handover.
Through using CNG, Megabus expects a reduction in nitrogen oxide emissions of 94%, a reduction in particle emissions of 98%, and a reduction in carbon dioxide (CO2) emissions of as much as 90%.
Milestones
Megabus and Tetra 4's contract for the supply of the CNG marks the first sale of locally produced onshore natural gas. Construction of the compression facility is complete, with initial gas having been compressed, marking the first major step towards creating an energy efficient gas economy in the Free State, according to Renergen CEO Stefano Marani.
He added that the handover marked "a major milestone" in that it is the culmination of the acquisition of Molopo South Africa Exploration & Production (now known as Tetra 4) in November 2015, in a deal valued at R650-million, which in turn shows proof of concept of Tetra 4 compressing natural gas from the gasfield in the Free State.
King added that Scania was "proud to be partners in this exciting new venture using centrally located CNG in an efficient and environmentally sound way . . . a huge step forward and a green light for alternative fuels".
Scania also handed over a Scania biodiesel truck, which will operate in Cape Town, and an ethanol-powered vehicle, which will operate in Durban, to respective customers.
The biodiesel engine will allow for a 66% reduction in CO2 emissions, while the ethanol-powered vehicle will operate from a feedstock of sugar cane that will provide a CO2 emissions reduction of about 90%.
"Our aim is to reduce CO2 emissions, and if we can align it with customers receptive to change, then it allows for more [sustainability] going forward in relation to climate change," King concluded.